PARACHINAR -- A newly established music academy in Kurram District is teaching youth how to play musical instruments as a means of promoting peace.
Imtiaz Hussain, a young music lover, set up the Sama Music Academy in his native Parachinar, the first ever in the tribal areas.
Kurram -- Parachinar in particular -- was once a hub of militancy.
He launched the academy to soften the hearts affected by terrorism and to bring peace, happiness and music to the local population, said Hussain.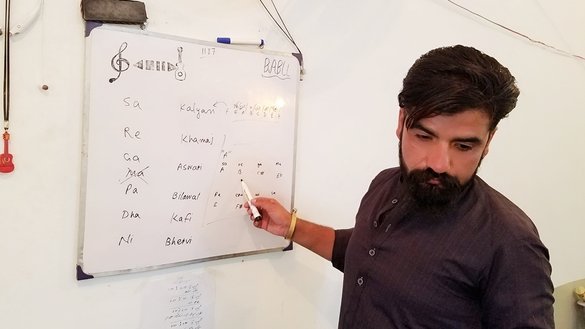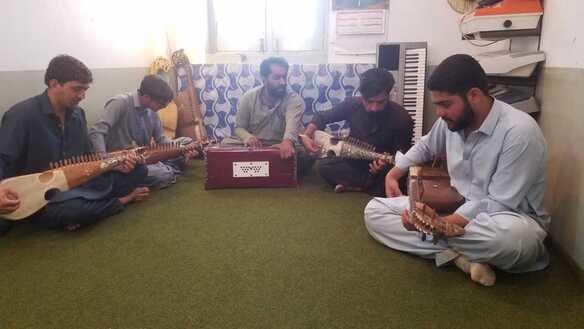 "The opening of the first ever music academy in formerly terror-stricken Parachinar is a sign of peace," he said.
More than 30 students from 15 to 40 years old have already enrolled in the academy, according to Hussain, adding that he sends video lessons to another 15 students.
The students, who are mostly teachers and painters, are learning techniques for the rabab, piano, bansuri and tabla as well as singing, he said.
"I myself teach rabab and piano, while two other teachers teach the drums (tabla) and flute (bansiri)."
"I travelled to Lahore and Rawalpindi frequently from 2013 to 2018 to attend music classes," Hussain said, adding that he received his musical education from Sardar Fateh Ali Khan of Patiala Gharana, a famous singing school.
Hussain began working on the music academy last August.
"Now I want to develop the academy as a proper music school," Hussain said. "I am also teaching music [online] to Pashtuns living abroad."
"Music takes away you from terrorism, militancy and anxiety," he said.
"I wanted to launch the musical academy earlier, but it failed because of the wave of terrorism," Hussain said, adding he is happy now that peace has returned to Parachinar.
Happiness and satisfaction
Waseem Abbas, a 21-year-old student studying engineering at the local polytechnic college, has been learning to play the rabab during the past six months.
"The music academy has given an opportunity to music lovers to come and learn about music," Abbas said, adding that terrorism affected not only businesses but education and even music as well.
The restoration of peace has made it possible for the academy to operate in Kurram, he said. "Schools are starting educational activities again, and business activities gained momentum."
Iqrar Hussain, a 20-year-old student studying civil engineering, said a love of music brought him to the academy.
"Learning music and playing the rabab give me happiness and satisfaction," he said.
"Now there is complete peace, which enables me and my other friends to join the music academy," Hussain said, adding that terrorism would not have allowed them to learn music.
Fahim Abbas, 20, has been learning to play the piano during the past two months.
Music received little attention in the recent past because of terrorism, he said.
"Now the music academy is playing a significant role towards the promotion of music," Abbas said.
"The government should take steps towards launching music classes in governmental schools so that students there learn music," Fahim Hussain, another resident of Parachinar, said.
"Music is not only art but a part of Pashtun culture."