ISLAMABAD -- Mounting evidence suggests the Iranian regime is supporting insurgent violence in Balochistan Province, according to Abdullah Khan, managing director of the Islamabad-based Pakistan Institute for Conflict and Security Studies (PICSS).
"The Iranian regime is fanning militancy in Balochistan Province by supporting Baloch insurgents and other anti-Pakistan elements," Khan said in an interview on June 28.
Baloch insurgents who killed 14 Pakistanis, including nine naval personnel, in a terrorist attack on Makran Coastal Highway in April came from Iran, he said, adding that the insurgents later escaped back to Iran.
Pakistan filed a protest with the Iranian regime over the infiltration by the militants, Khan said. The Foreign Office of Pakistan shared actionable evidence with Iranian authorities, seeking strict action against the perpetrators.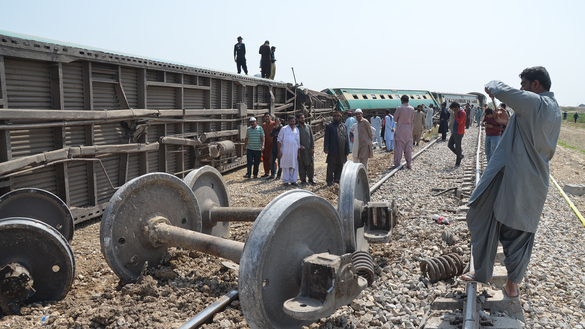 The Baloch Republican Army (BRA), a banned militant outfit, is receiving training and logistical support from inside Iran, Pakistani Foreign Minister Shah Mahmood Qureshi said during a news conference on April 20, according to Dawn.
Pakistan has shared information with Iranian authorities on the locations of BRA camps inside Iran, he said.
However, Tehran's willingness to pursue those militants seems to be another matter.
"Iranian intelligence is providing passports and other support to the militants who are carrying out bloodshed in Balochistan," Peshawar-based security analyst Brig. (ret.) Mehmood Shah said in an interview.
Iranian intelligence has been supporting terrorism in Pakistani territory, especially in Balochistan, he said.
"One thing is loud and clear: the territory of Iran is being used for militancy against Pakistan, and it is the first time the Pakistan Tehreek-e-Insaf-led government has strongly protested Iranian support to terrorists targeting Pakistanis," Shah said.
The Pakistani government must put more pressure on Tehran to discourage infiltration by and support for the militants, he said.
Iranian intelligence
Clear evidence of Iranian subterfuge has surfaced in Pakistan in the past. Uzair Baloch, an alleged Pakistani-Iranian gangster from Lyari, is one such case.
Baloch has been in Pakistani custody since January 2016, when authorities arrested him in Karachi, and is on trial in a Pakistani military court, according to Dawn.
When a crackdown on Karachi gangs forced Baloch to flee to Iran in 2013, Iranian intelligence protected him rather than handing him over to Pakistan, said Khan the PICSS director, adding that Baloch gave the Iranians sensitive information.
Baloch confessed in October 2017 during a hearing in Sindh Province that an agent of Iranian intelligence helped him flee to Iran, the Daily Tribune reported at the time.
In Iran, he shared valuable information with intelligence officials in exchange for protection, he admitted.
That information included the names of key Pakistani army, Inter-Services Intelligence (ISI) and military intelligence personnel.
He also confessed to providing maps and pictures of various Pakistani army and navy installations and to identifying their entry and exit points.
Recruiting Pakistani Shia
Iran's Islamic Revolutionary Guard Corps (IRGC) are also recruiting Pakistani Shia youth, according to Shah, the analyst.
"Pakistani Shia residing near the border with Iran are being recruited into the IRGC," he said. The recruits hold Pakistani computerised national identity cards (CNICs) as well as Iranian citizenship that the IRGC arranged for them.
Islamabad should discuss this security threat with the Iranian regime and identify and monitor Pakistani youth whom the IRGC recruited to fan militancy in Balochistan, he added.
Although the Iranian regime has not openly shown hostility toward Pakistan, militants that it backs have used Iranian soil as a base against Pakistan for years, according to Shah.
The Iranian government must abandon this policy and join hands with Pakistan to eliminate terrorism, he said.
"The Pakistani government and army should develop a strategy to counter terrorism from Iranian territory," said Col. (ret.) Muhammad Sabahuddin Chaudhry, a security analyst and director of security at a multi-national bank in Karachi.
Pakistan should take up with the Iranian regime the implementation of Pakistan's proposal to fence the 909km-long border, according to Chaudhry.
At the request of Pakistan, Tehran has agreed in principle to fence the border, but practically nothing has been done, he said.