PESHAWAR -- Residents of Kurram District, Khyber Pakhtunkhwa, who have been the target of terrorists' violent hate campaigns for the past decade, are seeing love flourish in the region again.
Sahiban Trust, a welfare organisation run by various religious groups and scholars, is bringing happiness to families affected by terrorism and other needy citizens in Kurram by offering mass weddings free of cost.
The organisation has set up about 2,000 free marriages in the past 10 years, with the majority of the beneficiaries being victims of terrorism.
Kurram District and its capital city, Parachinar, have been the target of several terrorist attacks since 2007. That year, a gunman attacked a gathering and killed 40 people, stoking sectarian violence in the region.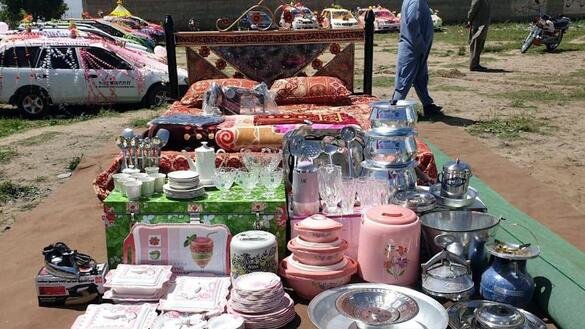 Hundreds of residents of the area have been killed by terrorists in the last decade, and a large portion of the population suffers from post-traumatic stress disorder, according to Allama Baqir Haideri, director of the Sahiban Trust.
"The objective of the Sahiban Trust is to help the poor and deserving, but our priority is those affected by terrorism and whose elders have embraced martyrdom in incidents including bombings, targeted killings and sectarian violence," Haideri said in an interview.
Contributions from Pakistani expats
About 30 couples tied the knot at a mass wedding in April in Parachinar ahead of the holy month of Ramadan, Haideri said.
"Every year we try to arrange mass marriages three times or more -- it depends on ... donations from philanthropists who contribute to this noble cause," he said.
Most of the contributions come from Pakistani expatriates living in the United Arab Emirates, Saudi Arabia, the United States and Canada, among other countries, Haideri said.
"The main objective behind holding these marriages is to bring happiness to terrorism-affected families and also to protect poor youth from slipping into the hands of criminals and extremists because of abject poverty," said Allama Syed Iftikhar Hussain, a member of the organising committee of the Sahiban Trust.
"By engaging them in matrimonial bonds, we want to protect them and to divert their attention toward growing a family and raising children properly," Iftikhar said in an interview.
During these mass marriages, arrangements are made for the ceremony feast as well as for wedding dresses and dowries for the brides, Hussain said.
"We give a proper dowry to the brides including clothes, crockery, necessary furniture, mattresses, etc. so that the couple can be at ease after the marriage," he added.
'Great blessing of God'
Apart from mass marriages, the Sahiban Trust distributes food to minority communities, including Christians and Hindus, Hussain said.
The trading community and well-off residents of Kurram District support the Sahiban Trust "by extending financial assistance to the poor and needy", said Azmat Alizai, a Parachinar-based journalist.
The organisation has helped numerous families whose relatives were killed by terrorist acts, Alizai said, adding that it has won the trust of locals and therefore receives significant support.
"The majority of dwellers in Parachinar are affected by the menace of terrorism, and the help from the Sahiban Trust is helping heal their wounds by bringing happiness to the lives of those who have forgotten to laugh because of the tragic killings of their family members," he said.
The actions of the Sahiban Trust "are like a great blessing of God -- it was impossible to make arrangements for the marriage of my children", said Bibi Khadija, a widow from Parachinar whose son was killed by members of Tehreek-e-Taliban Pakistan (TTP) in 2009.
Militants attacking a convoy on the Tall-Parachinar road in Kurram District murdered her eldest son, Abdullah, said Bibi.
The TTP killed most of the passengers in his vehicle before setting it on fire, she said as tears rolled down her cheeks. His death aggravated his family's hardships as he was the only member who earned a living.
The marriage of another son in April, set up by the trust, has brought her happiness and a smile on her face following years of misery, she added.
The benevolent actions by the Sahiban Trust are making "dreams come true" for those most in need, said Najmul Hassan, a resident of the Hassanzai area of Parachinar who took part in a free marriage ceremony in April.
"The Sahiban Trust has made my dream come true," he said. "Because of meager resources, it was almost impossible for me to make arrangements for marriage."