TEHRAN -- The Iranian regime is ignoring calls from governments around the world to stop its pursuance of further uranium enrichment in violation of a 2015 nuclear deal.
"We will increase [the enrichment level] beyond 3.67% to as much as we want, as much as is necessary, as much as we need," Iranian President Hassan Rouhani said during a cabinet meeting on Wednesday (July 3).
The Iranian government also threatened to go further and abandon more nuclear commitments unless certain countries involved in the deal help it circumvent sanctions, especially by letting it sell its oil.
A chorus of opposition
Russia, China, France, Germany, the United Kingdom and the United States are just a few of the nations calling for Iran to cease its activity.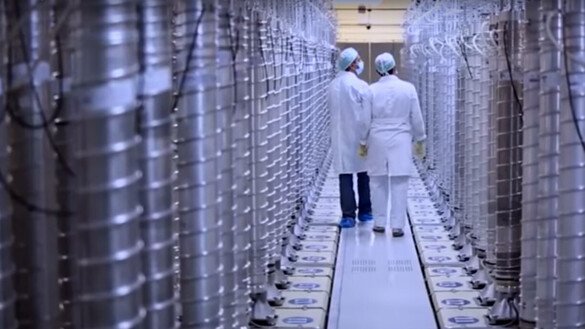 "We call on our Iranian colleagues to show sangfroid, not to give in to emotions by any means and observe key provisions of the IAEA Safeguards Agreement and the Additional Protocol to this agreement," Russian Foreign Minister Sergey Lavrov said.
"This agreement has special significance for the strengthening of the [nuclear] non-proliferation regime," Lavrov said after holding talks with Irish Foreign Minister Simon Coveney.
"China regrets the measures taken by Iran," Chinese Foreign Ministry spokesman Geng Shuang said at a press briefing Tuesday (July 2).
"We call on all parties to view this from a long-term and overall perspective, exercise restraint and uphold the JCPOA [nuclear deal] together so that there won't be further escalation in the tense situation," Geng said.
"We urge Iran to reverse this step and to refrain from further measures that undermine the nuclear deal," said a joint statement signed by EU diplomatic chief Federica Mogherini and three countries' foreign ministers -- France's Jean-Yves Le Drian, Germany's Heiko Maas and Britain's Jeremy Hunt.
"We regret this decision by Iran, which calls into question an essential instrument of nuclear nonproliferation," it said.
In his own statement, French President Emmanuel Macron said he had "noted with concern" Tehran's overstepping of the limit set in the 2015 deal with world powers and called on Iran "to immediately reverse this overshoot and abstain from any other measure that would undermine its nuclear obligations".
US President Donald Trump warned Monday that the Iranian regime was "playing with fire".
The news comes amid heightened tensions after Iranian forces shot down a US drone over international waters and attacked several oil tankers near the Strait of Hormuz.