ISLAMABAD -- The United Nations (UN) June 20 ended Pakistan's status as a "non-family" duty station for UN personnel, in yet another sign of the return of peace.
The decision was made on the recommendation of Under-Secretary General for Safety and Security Peter Drennan, who evaluated the security situation in Islamabad, according to a letter from the UN International Civil Service Commission (ICSC) to Maleeha Lodhi, Pakistan's representative to the UN.
"I, under the delegated authority of the Commission, discontinued the non-family status of the duty station Islamabad, Pakistan, effective 14 June 2019," said the letter from ICSC Chairman Larbi Djacta.
A non-family duty station means that "for reasons of safety and security, all eligible dependents are restricted from being present at the duty station for a period of six months or longer," according to the UN. The change in status means UN personnel deployed to Pakistan can now bring their families permanently.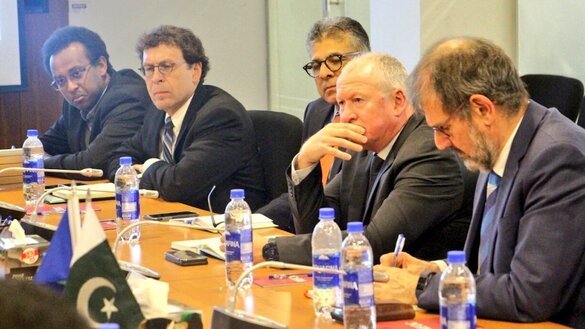 "This is a positive development on which we all worked together," Lodhi said on Twitter.
"Good news! Based on comprehensive security review, UN restores Islamabad's status as a family station for its international staff. I warmly welcome the decision," Foreign Minister Shah Mahmood Qureshi said on Twitter.
The change in status was a welcome development because Pakistan has faced international criticism for terrorism in the past, he told ARY News.
The UN move will open new venues for trade and diplomatic relations for Pakistan with all countries, he said.
"Our efforts for peace have been acknowledged by the UN. It will benefit our country... because the world community has accepted Pakistan as a peaceful country," Qureshi said.
"Our efforts against terrorism have finally been recognised as we have taken number of measures to make Pakistan a peaceful country. It is to our own benefit to end terrorism," said Shehryar Afridi, former minister of State for Interior.
The security situation in Pakistan has improved and further efforts are afoot to build prosperity, Afridi said.
Improved security
International UN staffers based in Pakistan can now work in the country with their families instead of having to frequently travel to their native countries to see them.
"I have been working in Islamabad, but my family is in the US. Now, we have been authorised to live with our families due to improved security here," said a senior official working with the UN in Islamabad on the condition of anonymity.
"I have asked my family to prepare to be shifted to Islamabad," he said.
"I often feel homesickness due to my parents, wife and children, but the permission from UN headquarters to live with our families has helped me," said another UN employee in Pakistan who also requested anonymity.
"Now, I plan to bring my family here as soon as possible," he said.
"We have noted that there is a lot of progress in security, so we can travel to each and every city," he added. "The work of security agencies has led to an improvement in our activities."
Encouraging investment
The move has also been seen as a positive sign for the foreign investment and business sectors.
It will send a message across the world that Pakistan is a safe country for investors, Aqeel Karim Dhedhi, a Karachi-based businessman, told Dunya TV.
"Pakistani businesspeople will get more opportunities to trade with other countries. It will go a long way to improve the image of Pakistan as a peaceful country," he said.
"Lately, Pakistan has initiated several programmes to attract foreign tourists," Peshawar-based senior security analyst Brig. (ret.) Mehmood Shah said in an interview.
"The UN's decision is of great help to implement the government's plan because tourists will have a sense of security now," he said.
Pakistan has been in the grip of terrorists for the past two decades, but the situation is showing signs of improvement, which is good for the people of the country, Shah said.
The UN change to Pakistan's status acknowledges the country's success in curbing terrorism, he said.