PESHAWAR -- The Pakistani government has launched a new programme to boost entrepreneurial and job opportunities for unemployed and impoverished youth, while helping steer them away from potential recruitment by extremists who prey on vulnerable citizens.
Prime Minister Imran Khan on May 16 approved the Rs. 100 billion ($674 million) Wazir-i-Azam Kamyab Naujawan Programme aimed at providing job opportunities, education and professional skills to Pakistani youth, Dawn reported.
As part of the programme, low-interest loans will be available for youth to help them establish small businesses, said Firdous Ashiq Awan, Khan's spokesperson, as quoted by Dawn.
Youth will be able to apply for loans of as much as Rs. 5 million ($33,700), while a portion of the lending initiative will be earmarked specifically for women, she added.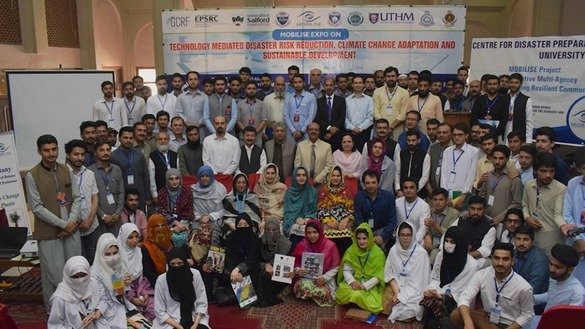 "The prime minister believes that the youth are the backbone of the country, as they are 65% of the country's total population," Awan said. "The programme will provide job opportunities to the young and will boost economic activities in the country."
Undercutting extremist recruiting
Poverty in the past has helped foster the growth of extremism in the country, as terrorists have targeted vulnerable citizens -- such as impoverished youth -- as recruits for their violent causes.
Through these efforts to alleviate youth unemployment and poverty, the government is undercutting the ability of insurgents to recruit the disaffected young, security analysts say.
"We have seen that militants used jobless youths as fighters and suicide bombers because it was easy... to lure them," Peshawar-based senior security analyst Brig. (ret.) Mehmood Shah said in an interview. "Giving loans to youth will enable them to begin working and earn livelihoods for their families."
Such a move "would dry up sources of recruitment for insurgents who rely on poverty and engage the poor in anti-state activities", he said.
The new government programme will ensure a better future for youth, especially in the newly merged tribal districts that were known for producing local militants, Shah added.
Asif Khan, a retired banker in Mardan, lauded the government initiative because many of the country's youth remain jobless after they completing their studies.
"In the past, there were such schemes, but the public couldn't benefit because of high interest rates and because of strict conditions for getting loans," he said. "In this scheme, the loan recipients will receive the money on easy terms."
The plan will help thwart the recruitment of youth by extremists, said Khan.
"Taliban militants have recruited jobless youth, whom they used to commit terrorism against the armed forces and civilians," he said. "Through such programmes, we can achieve the objectives of ending terrorism and boosting our youth economically."
'A blessing for youths'
Muhammad Raees, 25, of Peshawar, said he has finished his master's in business administration and is looking forward to getting a loan through the programme.
"I plan to start a garment business with the loan and hope it will benefit my whole family," he said. "I will be able to employ a dozen workers in my business. Many of my friends have welcomed the government's plan and also aim to launch their own businesses."
Muhammad Namair, a student from North Waziristan tribal district, said he is jubilant about the government initiative.
"It is a blessing for youths of the tribal districts to be able to make their own future after suffering heavily because of terrorism," he said. "In the past, thousands of our youths joined Taliban militants for a little money."
Namair, a 22-year-old graduate from the University of Peshawar, said he plans to open a general store in the newly constructed market in Miranshah after getting a loan.
"Our friends are anxiously waiting for the launch of the programme, which is likely to change the future of youths in the tribal region," he said.