PESHAWAR -- An orphanage in Swat District has been providing children who have lost their parents in the war against terrorism a better path to success for the past decade.
Since its establishment in 2009, the Parwarish orphanage has provided orphans with shelter, food, clothes and education to help them become active citizens of society.
The majority of the beneficiaries of the orphanage are war victims who lost their parents in terrorist attacks by the Taliban or those who were displaced by military operations aimed at ousting the militants.
"Parwarish was established with the objective of protecting poor orphans from slipping into the hands of criminals and militants because of abject poverty," Naeem Ullah, the director and founder of the orphanage, told Pakistan Forward.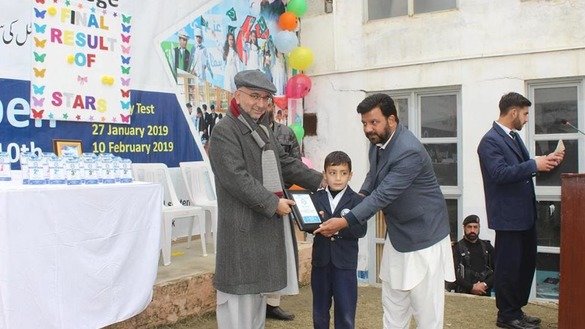 Ullah, with support from the Pakistan Association in Dubai, founded Parwarish after the expulsion of terrorists from Swat District by the Pakistani army through Operation Rah-e-Rast, which ended with the Pakistani government decisively in control of the area.
Parwarish has a population of 310 students, including 115 girls, who all receive free education and boarding. Thousands of children were orphaned from 2007 to 2009 when the Taliban controlled Swat District, said Naeem.
'Lessons of humanity'
Each year 40 students are enrolled in Parwarish, all of them orphans and living in poverty, he added.
"We are teaching these students lessons of humanity so that when they become a successful professional after the completion of their studies, they will serve the poor and needy people of the country," Naeem said.
The hard work of the students is paying off, helped by the dedication of faculty members and other staffers of Parwarish, he said.
Ten years on, "the first batch of students has reached the level of intermediate 11th grade, said Mehboob Ali, the administration officer at Parwarish.
Parwarish plans to provide loans with generous terms and conditions so that they can continue their higher education, Ali told Pakistan Forward.
The orphanage continues to receive support from the Pakistan Association in Dubai, an organisation comprised of expatriate Pakistanis living in the United Arab Emirates and led by Dr. Ziaul Hassan, who is spearheading a non-profit community-based diabetes hospital in Peshawar, Ali added.
"Serving humanity -- especially the disadvantaged and underprivileged of the community -- is a very commendable job," said Muhammad Asif, chairman of the Youth Anti-Terrorism Organisation, a non-governmental organisation working to fight extremism.
Poverty, illiteracy and deprivation are major issues that militant groups seize upon to attract youth, he told Pakistan Forward, adding that the programme is one way to dissuade youth from extremist blandishments.
"Educating war victims and impoverished youth to make them useful citizens is a very praiseworthy job being done by Parwarish, and state institutions and the private sector should wholeheartedly extend help to this organisation to help them in this noble cause," Asif said.
Opening up educational opportunities
Parwarish opened educational opportunities that would have otherwise been unavailable to a parent-less child.
"If I had not joined Parwarish, I would have been working as a child labour at a garage or serving food at a roadside restaurant," said Naeemul Wahab, an 11th-grade student at Parwarish.
"My parents died at an early age, and my elder two brothers missed the opportunity of getting an education at an organisation like Parwarish," he told Pakistan Forward. "They are now doing menial jobs -- a helper at a workshop and a servant at a clothing store."
Wahab said he would never forget the kindness and opportunities he received from Parwarish, in addition to an education that otherwise would have been only a dream for him.