PESHAWAR -- The Pakistani government has announced measures aimed at preventing banned organisations that claim to collect donations in the name of charity but instead use the funds for militant activities.
The Interior Ministry Thursday (May 9) ordered all provinces to monitor donations as part of counter-terrorism efforts. The directive included a list of 75 outlawed organisations banned from collecting zakat and fitrana.
"We have already started efforts to stop sources of funding of terror groups to stop acts of terrorism," Khyber Pakhtunkhwa (KP) Information Minister Shaukat Yousafzai told Pakistan Forward.
In the past, militants preyed on the sentiments of Pakistanis in the name of Islam, but now the law has come into play and only registered entities may raise money, he said.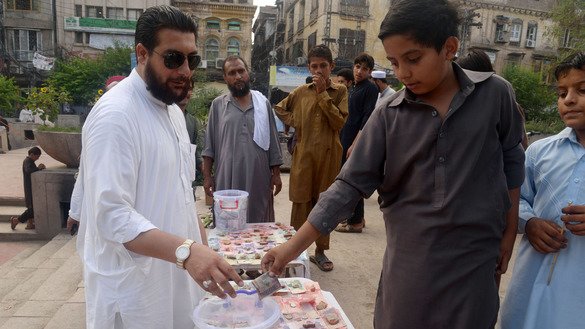 Pakistanis generously give alms to the needy and to charities, especially in the holy month of Ramadan, Yousafzai said.
"A multi-pronged strategy is in place to squeeze the financial sources of the terror groups and render them incapable of sponsoring terrorism," he said, adding that the government recently has been cracking down on unlawful individuals and groups.
Unintentionally facilitating terrorism
Providing financial assistance to banned outfits under the pretence of charitable work carries a punishment of 10 years' imprisonment and a fine, Abdul Jabbar, a retired banker from Peshawar, told Pakistan Forward.
Pakistanis donate as much as $4.5 billion (Rs. 636.5 billion) annually to help the poor and needy in the name of charity, according to Jabbar, citing media reports.
"There should be a strict monitoring mechanism to ensure that the money intended for helping the destitute doesn't land in the hands of terrorists to be used to kill and wound the innocent," he said.
"There is increased awareness," Khalid Khattak, a lecturer at the University of Peshawar, told Pakistan Forward.
Pakistanis "aren't willing to donate to banned groups. They have suffered immensely from terrorism, due to which donations have steeply decreased," Khattak said.
The efforts to prevent donations are in accordance with the National Action Plan, which was enacted after the Army Public School (APS) massacre in Peshawar in 2014, according to Khattak.
Cracking down on militant funding
In March this year, Pakistan froze the accounts of organisations banned by the United Nations Security Council (UNSC) and seized their property.
Pakistan has started a countrywide crackdown against terrorists for public safety and to fulfill its international commitment to stop the flow of funds to illegal outfits, Peshawar-based senior security analyst Brig. (ret.) Mehmood Shah told Pakistan Forward.
On April 22, police arrested nine supporters of proscribed Jamaat-ud-Dawa (JuD) and its charity wing, Falah-i-Insaniyat Foundation (FIF), in Karachi, Dawn reported.
The cases were registered under Section 11 of the Anti-Terrorism Act 1997, which deals with fundraising.
Every wealthy person has an obligation to help the poor, especially in the month of Ramadan, Peshawar-based imam Maulana Muhammad Idrees told Pakistan Forward.
However, the wealthy should ensure that the country's enemies do not use those donations, he said.
Militant groups exploit public sentiment with the aim of garnering more funds during Ramadan, Idrees said. The faithful should take precautions while extending financial assistance to those in need, he added.
"Terrorists shouldn't be allowed to get illegal funds and create lawlessness in society," he said, adding that the ulema have extended their fullest support to the government to do away with all forms of terrorism.