ISLAMABAD -- The Pakistani government's new programme aimed at alleviating poverty is a step toward helping the underprivileged attain access to basic services such as health and education, citizens and economists say.
The initiative, announced by Prime Minister Imran Khan in Islamabad on March 27, also provides financial assistance for items such as food, shelter and clothing.
The government has allocated Rs. 80 billion ($566 million) for the programme this year and will increase that amount to Rs. 120 billion ($850 million) by 2020, he said.
Under part of the programme, about 5.7 million women who are considered to be at or below the poverty level will be given savings accounts and mobile phones through which they will be able to access their bank accounts, according to Khan. The women also will receive Rs. 5,500 ($39) every month.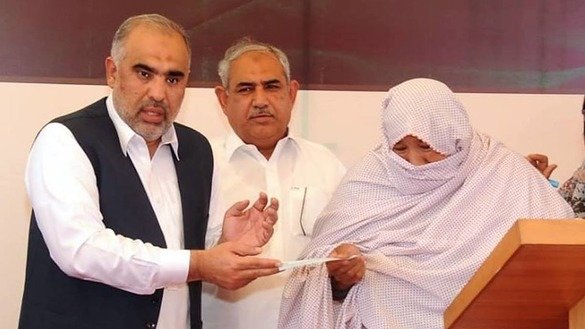 Poverty and economic instability in the past have helped foster the growth of extremism in the country, as terrorists have targeted vulnerable citizens -- such as impoverished youth -- as recruits for their violent causes.
By curbing poverty and developing a robust economy, the government is laying the foundation for increased opportunities for youth, allowing them to steer away from extremism.
The government wants to extend financial support to communities that are in dire need of improvements to their infrastructure, health, education and other facilities, said Khyber Pakhtunkhwa (KP) Information Minister Shaukat Yousafzai.
The government is creating a new ministry to co-ordinate all the departments that are working to implement the programme throughout Pakistan, said Yousafzai.
Contributing to stability
The initiative is a welcome move and is needed to help lift Pakistanis out of poverty, said Shafqat Ali, an economist at a private university in Peshawar.
"We have to end poverty for the overall progress of the country," he said.
The government aims to resolve various multi-dimensional poverty-related issues by providing such financial assistance, he added.
The government initiative will pay off, predicted Muhammad Rafiq, a consultant with the Small and Medium Enterprises Development Authority (SMEDA) in Islamabad.
In particular, the programme will help the poor finance the start of their own businesses, he told Pakistan Forward.
"The government's plan to give small loans for home-based businesses to widows and the poor is a big step," he said. "There are examples of how workers generated income from stitching, embroidery and poultry," among other sectors.
At the same time, he said, governance, transparency and accountability should remain top priorities to ensure proper use of the funds.
Accessibility to services
The government's plan is ambitious and covers all measures required to eradicate poverty, said Peshawar-based banker Ijaz Khan. The programme promises jobs for women and impoverished youths, which if implemented fully will bring the desired results, he said.
Peshawar-based lawyer Shah Nawaz Khan praised the protection, or "Tahafuz," component of the programme, which aims to extend legal aid to impoverished citizens.
"It is laudable because thousands of poor citizens land in jail when they cannot afford lawyers," he said.
"It will also help the poor resolve their legal affairs. Such programmes started by civil society organisations have helped the poor, but they weren't durable, and when donors stopped funding, the programmes were closed."
"A government-run programme for the needy population will be of great help, and the public will get assistance on a permanent basis," he said.
The initiative is the most comprehensive strategy ever announced by the government, said Peshawar economist Zafarullah Khan.
"It promises to help street children, transgender persons, persons with disabilities, bonded labourers, daily wage workers and orphaned children," he said, adding that the plan to spend Rs. 5 billion ($35 million) on building houses for impoverished citizens through interest-free loans also is eagerly awaited.