ISLAMABAD -- A United Nations (UN) Security Council committee on Wednesday (May 1) added Masood Azhar, the leader of the Pakistan-based Islamist group Jaish-e-Muhammad (JeM), to the UN list of global terrorists after China lifted its objections to the move.
The UN sanctions committee on the "Islamic State of Iraq and Syria" (ISIS) and al-Qaeda announced the designation of Azhar for his ties to al-Qaeda in a press release Wednesday.
Azhar, considered the founder of JeM, will be subjected to an asset freeze, a global travel ban and an arms embargo, the statement said. JeM has been on the UN terror list since 2001.
JeM claimed responsibility for the February 14 suicide bombing in Kashmir that killed 40 Indian troops.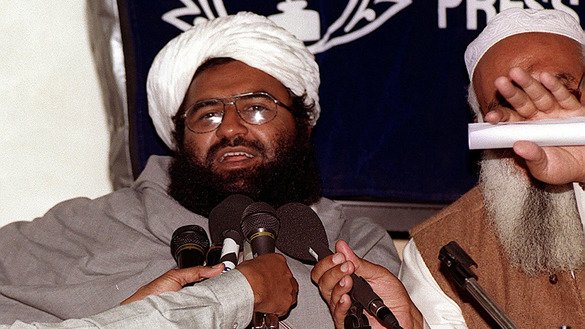 Tensions between India and Pakistan soared afterward, prompting tit-for-tat air raids and fueling fears of an all-out conflict between the two nuclear-armed countries.
Islamabad has denied any involvement in the attack.
Talks between Chinese, Pakistani leaders
China had blocked three previous attempts by the UN sanctions committee to blacklist Azhar and put a technical hold on a fourth request from Britain, France and the United States in March.
UN diplomats said the request was again submitted to the committee last week and that China did not oppose the move to blacklist Azhar. Any decision to add individuals or groups to the UN terror list requires consensus on the committee.
Azhar is linked to terrorism for "participating in the financing, planning, facilitating, preparing or perpetrating of acts or activities" carried out by JeM, according to the statement by the sanctions committee.
The decision to blacklist Azhar came after Chinese President Xi Jinping held talks with Pakistani Prime Minister Imran Khan last week on the sidelines of a summit in Beijing.
France, which imposed its own sanctions on Azhar in March, also welcomed the decision and stressed it had pushed for many years for the JeM leader to be put on the list.
The United States in late March put forward a draft Security Council resolution to blacklist Azhar, ratcheting up pressure on China to remove its opposition to the sanctions.
JeM is threat to Pakistan, region
Security analysts welcomed the move and said that it will help the regional countries counter the threat of transnational militancy and terrorism.
"There was severe global criticism on China for blocking the move to designate JeM a terror outfit," said Habib Rehman, a Lahore-based researcher with a focus on Pakistani extremists.
The decision will benefit Pakistan, India and Afghanistan in countering threats of trans-national militancy, Rehman told Pakistan Forward.
"These countries have been facing threats of terrorism on their soil, and international backing to blacklist Azhar has significance in the war against terrorism," he said.
JeM itself is a security threat to Pakistan, said Pakistani security officials.
"A large number of the proscribed Tehreek-e-Taliban Pakistan (TTP)'s commanders and members, such as Asmatullah Muawiya, who headed the terror outfit's Punjab chapter, and Adnan Rasheed, a key militant who was involved in jail breaks, were JeM members," a Pakistani security official told Pakistan Forward on the condition of anonymity.
Pakistani Foreign Ministry spokesman Mohammad Faisal said "Pakistan will immediately enforce the sanctions" imposed on the JeM leader "as it always does with UN cases".
[Zia Ur Rehman from Karachi contributed to this report.]