TEHRAN -- A recent agreement by Pakistan and Iran to form a joint border reaction force is "contradictory" because of Iran's role in sponsoring terrorism, say observers.
Iranian President Hassan Rouhani April 22 announced that he and visiting Pakistani Prime Minister Imran Khan agreed to set up the border force.
"We agreed to create a joint rapid reaction force at the borders for combatting terrorism," Rouhani told a joint news conference, following months of increased tensions over attacks on both sides of the two countries' frontier.
"The security chief will sit down with his counterpart here and discuss [security] co-operation," Khan said. No other details were given on the joint force.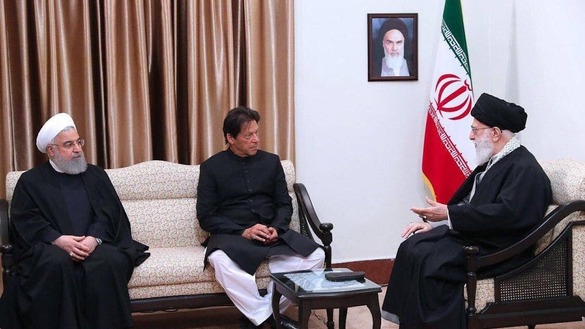 "We trust that both countries will not have terrorist activities from their soil ... We will not allow any damage to your country from our soil," Khan said.
Khan's visit to Iran, the first since he took office last year, came after gunmen killed 14 Pakistani security personnel in mid-April in Balochistan Province.
On April 20, Pakistani Foreign Minister Shah Mahmood Qureshi said that Pakistan had evidence that the "terrorist outfits" that carried out the attack have "training and logistic camps inside Iranian areas bordering Pakistan", according to AFP. "
"We have shared this actionable evidence with Iran after due authentication and identified (the) location of the camps," he added.
In March, Rouhani demanded Pakistan act "decisively against anti-Iranian terrorists", following a February 13 suicide bombing that killed 27 members of the elite Islamic Revolutionary Guard Corps (IRGC) in Sistan-Baluchistan, Iran.
A threat to security
"I think Iran's double standard and interference in the internal affairs of neighbouring countries are a major threat to regional security," Muhammad Naveed Zafar, an Islamabad-based defence analyst, told Pakistan Forward.
"A country that is extensively exporting terrorism for its strategic interests cannot prove sincere in any commitment," he said, referring to Iran's long practice of financing the Fatemiyoun and Zainabiyoun militias in Syria and to the IRGC, which the United States in early April designated as a terrorist group.
"In the past, Pakistan signed several other agreements with Iran in the energy and other sectors, but those were not proved to be result oriented," Zafar said. "In my judgment, considering Iran a credible partner may result in more dire consequences as its contradictory role has already been largely exposed in the war in Syria and other countries."
"We must not ignore that recently in ... Gwadar, Iran-based militants killed 14 Pakistani security personnel," he added, referring to the Balochistan massacre that Qureshi blamed on terrorists based in Iran.
"Iran is basically a sponsor of terrorism, and it is lobbying to gain the support of neighbouring countries for its geopolitical interests," Zafar added.
"In my opinion, it is a very contradictory narrative that Pakistan has agreed to the formation of a joint border counter-terrorism mechanism and rapid-response force with Iran, which is internationally declared as a state that sponsors militancy in the region," Malak Abdul Wali, vice president of the Balochistan National Party, told Pakistan Forward.
"The paradigm shift in ties with Iran, despite its anti-peace role, may cause more problems for the economy and security of Pakistan," he said.
"Our Foreign Ministry has affirmed that Iran-based militants are carrying out attacks against our soil, but the prime minister is ignoring this reality," said Wali.
"Iran's role in Syria and its influence in neighbouring countries have made it too controversial for any bilateral agreement," he added.
Reconsidering Iran ties
In regard to trade with Iran, "our business community is facing huge losses and the Iranian authorities are not fulfilling their commitments with our [Quetta] Chamber of Commerce," Abdul Ali Khan, a Quetta-based investor and former president of the Pakistan Flour Mills Association, told Pakistan Forward.
"Due to prevailing geopolitical and economic implications with regard to US sanctions, Pakistan must revisit its ties with Iran as these ties in the future could harm our national security," he said.
"Pakistani traders who are engaged in trade with Iran are facing payment problems," he said.
"The Iranian government claimed that it would facilitate Pakistani traders to enhance its trade with Pakistan, but instead of lowering tariffs on imports from Pakistan, Iran has increased the tariffs," he added.
[Abdul Ghani Kakar in Quetta contributed to this report.]