QUETTA -- The Iranian consulate in Quetta has suspended visa services and the facilitation of commercial activities in Balochistan after a Pakistani bank closed its accounts on April 4, spurring the ire of some businesses who say Iran is to blame for the disruption.
"Our two official accounts that were with Habib Bank Quetta have been closed by the bank administration without showing any solid reason," a senior Quetta-based Iranian official serving in the consulate told Pakistan Forward on the condition of anonymity.
Though the bank gave no official reason, consulate officials have said that the move stemmed from US sanctions against Iran for its nuclear activities.
In addition to those measures, the US Treasury Department in January announced sanctions on the Iranian-backed Fatemiyoun Division and Zainabiyoun Brigade militias fighting in Syria.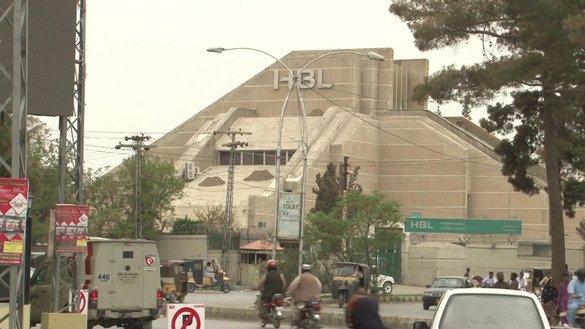 The United States on April 8 also designated Iran's Islamic Revolutionary Guard Corps (IRGC) as a terrorist group, criminalising contact and material support for the IRGC.
"Due to the closure of official bank accounts, we have suspended our visa services and economic services in Balochistan until further orders. Our diplomatic mission has raised this issue at the Pakistani Foreign Ministry, and we are working to sort out the issue," said the Iranian diplomat.
"The bank administration has told us that it can't further offer account services to the consul general's office," the official said.
"If someone is interested in obtaining an Iranian visa for a pilgrimage or other categories, he [or she] has to apply for visas at our consulates located in Karachi and other parts of the country," a senior Iranian official posted at the Iranian Embassy in Islamabad told Pakistan Forward on the condition of anonymity.
A lack of strategy
Pakistani businessmen and traders are blaming Iran for the failure to provide services, which greatly inconveniences those whose livelihoods require them to travel frequently to Iran.
They also fault Iran for failing to do more to revive its own economy.
"The prevailing situation is causing heavy damage to our traders and exporters," Abdul Ali Khan, a trader and senior member of the Quetta Chamber of Commerce, told Pakistan Forward.
"It is the core responsibility of the Iranian government to ensure its commitment with Pakistani traders who have invested millions of dollars in trade with Iran," he said.
"Today we learned that after the closure of those bank accounts, the Iranian consulate has suspended its commitments" to the affected traders, he said, referring to promises to boost their businesses that Iran now cannot keep.
"Our economic ties with Iran are compromised because of the frivolous strategy of the Iranian government," he said.
"Our exporters are facing millions of dollars in losses in trade with Iran, and so far the Iranian government hasn't taken any tangible step to streamline this process," Abdul Wadood Achakzai, a prominent Pakistani trader and former president of the Quetta Chamber of Commerce, told Pakistan Forward.
'Crisis'
"We are in constant contact with the Iranian consulate general in Quetta and trying to sort out this issue. Currently, the growing devaluation of Iranian currency is one of the major concerns of our community," he said.
"The Iranian ambassador in Pakistan last year assured us that Iran will facilitate Pakistan traders in the crisis, but we haven't yet been facilitated," Achakzai said.
"Our annual trade volume with Iran is about $1.5 million [Rs. 212 million]," he said, referring to the unspecified number of Pakistani traders who have registered with the Iranian consulate in Quetta.
"I think the closure of those Iranian bank accounts will greatly increase the problems of Pakistani traders who have have close ties with Iran for their import-export business," Abdul Rehman, a Quetta-based economist, told Pakistan Forward.
Pakistan's main exports to Iran are rice, textiles and paper, according to Rehman. Chief imports include petroleum, electrical energy products and fruits.
"Whatever Iran is facing today, it is an outcome of its policies, and in my judgment, Pakistan must also review those matters of engagements with Iran that could cause it [Pakistan] to be isolated in the international community," he said.