PESHAWAR -- With the restoration of peace, residents are trying to turn Peshawar into the "City of Flowers", demonstrating their resilience from when militancy led the locale to be known as the "City of Bombs".
Flower farmers in Bazidkhel, Sulemankhel, Bara Sheikhan, Shahabkhel Saifan, Mashookhel and Sheikh Muhammadi villages are now busy working in their fields.
They supply their goods to the main flower market in the city as well as other parts of Khyber Pakhtunkhwa (KP) and throughout the country.
The farmers grow a variety of flowers, such as carnations, marigold, jasmines and red rose, to have different fragrances and colours suitable for marriages and other events.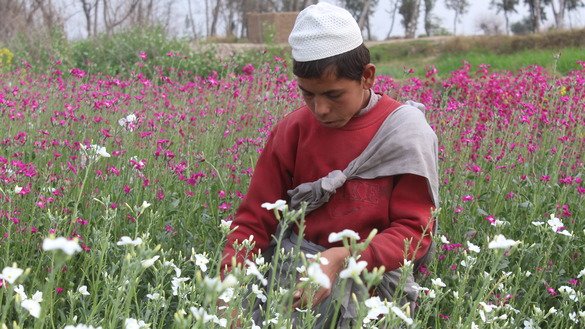 The villages where the flowers are grown are situated near the boundaries of tribal areas adjacent to Peshawar, once a hub of militants where bombings, kidnapping for ransom and extortion occurred on a regular basis.
'We are happy'
The restoration of peace in the area means farmers can return to making a stable living.
"Terrorism, bombings and a miserable law-and-order situation in the region affected the flower business badly," Habib ur Rehman, 52, a resident of Bazidkhel village, told Pakistan Forward. "Now we are happily growing flowers and supplying the main market in Ramdas [in Peshawar] regularly."
Rehman, who has been growing flowers for 30 years, said he earns Rs. 1,000 ($10) "easily on a daily basis without any fear".
"Local residents are now busy in their businesses and jobs. All year, one can see the fields of flowers in our village," Zahir Ullah, another farmer in Bazidkhel, told Pakistan Forward.
"The village is growing flowers on a large scale as compared to other villages of the region," he added.
Terrorism caused "unemployment in local villages, but now our business of flowers is at its peak", said Zahir Ullah, who grows a variety of flowers.
"This time I grew flowers on 2.5 acres," Zahir Ullah told Pakistan Forward. "One acre easily earns more than Rs. 50,000 ($500)."
"During the days of terrorism, no one was ready to supply flowers to the main market and other big shops in Peshawar because of the fear of bombings," he said. "But now everyone goes happily to the market."
Peaceful times spur spending
Flowers grown on the outskirts of Peshawar are supplied not only to different parts of KP but also to the Bani Chowk flower market in Rawalpindi and to the Shahdara Road flower market in Lahore as well as to Hyderabad, said Sohbat Khan, a wholesale flower dealer at the main market in Ramdas.
"At least 75% of local flowers are supplied to Punjab and 25% are sold" in KP, Khan told Pakistan Forward.
Business has picked up steadily since peace restored to the region, said Ehsan Ullah of Bazidkhel. He has enlisted his family to lend a hand.
"I am doing good business," he told Pakistan Forward. "My sons Furqan Ullah, 11, and Luqman Ullah, 7, also help me after school and collect flowers from the fields."
"In March, spring will be in full swing, and the whole village will have a very beautiful and colourful look," Ehsan Ullah said. "The youngsters used to come here on motorbikes to enjoy the fields of colourful flowers, but in the days of terrorism, no one could think about doing that."
For Fayyaz Khan, an owner of a flower field near Peshawar, growing flowers is paying off as peaceful times spur spending.
"I prefer to grow flowers instead of wheat and vegetables," he said. "Flowers ... return cash money on the same day. I earn easily Rs. 1,500 ($15) per day."
"Flowers are in demand at the market. It's good business in peace because flowers" bring pleasure, he said. "Gone are the days when there was no market for flowers because of ... bomb blasts and terrorism."