KARACHI -- Thousands of cricket fans and officials celebrated the start of the Pakistan Super League (PSL-4) in Pakistan on Saturday (March 9) at National Stadium in Karachi, welcoming international cricketers to the city in a sign of improved security.
The match saw the Lahore Qalandars and Islamabad United face off, with Islamabad United snagging the win.
The first 26 matches of the PSL, a Twenty20 (T20) cricket league, were played in the United Arab Emirates. The remaining eight matches will take place in Karachi.
The Karachi Kings faced off against the Quetta Gladiators last Sunday (March 10) in Karachi. The Lahore Qalandars meanwhile were set to play against the Multan Sultans on Monday (March 11).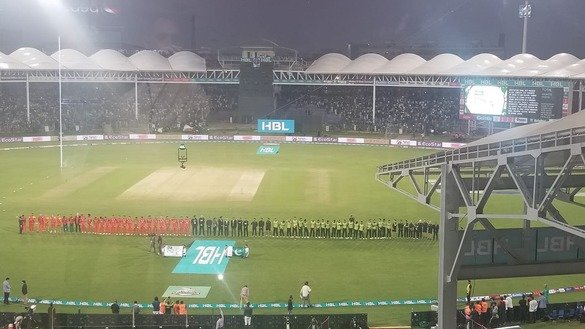 The final match is scheduled for Sunday (March 17) in Karachi.
Revival of international Cricket
The final leg of the PSL-4 has boosted the prospects of international cricket in Pakistan, which have long been stunted by terrorism, according to cricket officials and analysts.
Some 40 foreign players -- including former Australian all-rounder Shane Watson, current New Zealand opener Colin Munro and West Indian stars Dwayne Bravo, Darren Sammy and Kieron Pollard -- arrived in Karachi to play in the PSL-4.
"Doubtlessly the PSL match will help improve the country's chances of reviving international cricket," said Sami ul Hasan, a Karachi-based Pakistan Cricket Board (PCB) official.
"We are happy that foreign players came to Pakistan for the PSL, and obviously it will help us bring more international matches to the country," Hasan told Pakistan Forward.
International cricket was suspended in Pakistan after the March 2009 terrorist attack on a bus carrying the Sri Lankan cricket team in Lahore. The terrorists injured 20 people, including seven Sri Lankan players, and left seven Pakistanis dead.
Pakistani authorities blamed the banned Lashkar-e-Jhangvi (LeJ). Qari Ajmal, the mastermind of the plot, was reported killed in Paktika Province, Afghanistan, in October 2016 in an operation carried out by Afghan and coalition forces.
After the infamous attack, Pakistani teams representing all sports generally played abroad. However, a crackdown launched in 2014 by Pakistani authorities against militant groups began bringing normality back to the country and a significant decrease in terrorist attacks.
In 2014 and 2015, the cricket teams of Kenya and Zimbabwe, respectively, visited Pakistan, in an indication of the improved security situation in the country.
Then in 2017, Pakistan began hosting international cricket. In March 2017, Gaddafi Stadium in Lahore hosted the PSL final match. After that, the International Cricket Council World-XI squad, comprised solely of foreigners, finished three matches in Lahore in September 2017. Sri Lanka also returned for a one-off T20 international in October 2017.
In 2018, Karachi and Lahore hosted matches of PSL-3.
Enhanced security measures
In Karachi, lights and cardboard cut-outs of players adorn the main roads of the city. Giant billboards also show several foreign players representing the six teams.
At National Stadium, large screens have been placed in different neighbourhoods nearby to allow cricket lovers enjoy live matches.
Karachi is a cricket-loving city, said Karachi commissioner Iftikhar Ali Shallwani.
"The way the city residents greeted international cricket in 2018 showed their love of the game," Shallwani told Pakistan Forward.
Karachi authorities have stepped up security arrangements for the matches both inside and outside National Stadium. Police are protecting PSL players, foreign delegates, other guests and staff in compliance with international standards, said Karachi Police Chief Dr. Ameer Shaikh.
About 13,000 police personnel, including senior police officers and 700 policewomen, have been deputed for PSL-4 security and traffic arrangements, according to a press release from the Sindh Police.
The return of international cricketers is a testimony to and a vote of confidence in better security in Pakistan, especially in Karachi, Shaikh told Pakistan Forward.
"Pakistanis did not see foreign cricketers on their soil for several years, but now because of the defeat of militancy, Pakistan is able to host mega-international sports events ," said Shaikh.
"It is not only PSL-4 matches. It is about the defeat of violence and the revival of the country's prestige now that international sportspersons are coming to the country without fear," said Tufail Satti, a Karachi-based cricket fan.
The entire city has been celebrating PSL-4 for the past ten days, and families have been taking photos with cardboard cut-outs of international players, according to Satti, adding, "It looks like Eid in Karachi."