ISLAMABAD -- Pakistani authorities have launched a major crackdown on banned groups throughout the country, seizing their assets and arresting activists.
Security personnel have arrested 44 members of proscribed organisations over the past 24 hours, Minister of State for Interior Shehryar Afridi told journalists in Islamabad on Tuesday (March 5).
The crackdown will continue for two weeks, Afridi said.
"Nobody will be allowed to use our soil for terrorism against any country," he said. "We aren't taking action under pressure but want to end extremism for our own benefit."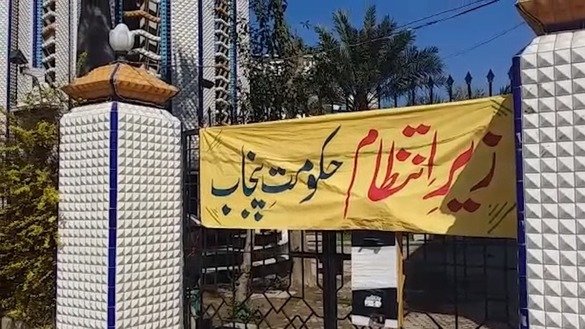 The Pakistani government on Monday (March 4) announced the freezing of accounts and seizure of assets linked to organisations banned by the United Nations Security Council (UNSC). Provincial governments are carrying out Islamabad's orders.
The move comes after weeks of heightened tensions between Pakistan and India linked to a suicide bombing in Indian-administered Kashmir that killed 40 Indian troops on February 14. The attack was claimed by Pakistan-based militant group Jaish-e-Muhammad (JeM).
As part of the crackdown, provincial governments are confiscating property, bank accounts, stocks and other assets belonging to the banned groups, according to a notification issued to the provinces on March 4.
Property and assets owned by such groups, including cars, cash, jewelry and other items, will not be transferable, it added.
The provincial governments will each prepare a report within 48 hours of seizing control of the property, said the notification.
Dr. Mohammad Faisal, a spokesman for the Foreign Ministry, said Monday in Islamabad that the government has seized control of all proscribed outfits operating in the country, Dawn reported.
"[From now onwards], all kinds of assets and properties of all [banned] organisations will be in the government's control," he said.
Crackdown underway
The government has decided to take strict action against all the groups involved in extremism, Information Minister Fawad Chaudhry told Pakistan Forward.
"We have to take action because Pakistan cannot afford to have terror outfits on its soil. All political parties have extended us support for implementation of the NAP [National Action Plan]," he said, referring to a counter-terrorism strategy enacted in January 2015.
A decision to expedite a crackdown on banned groups was made by the National Security Committee during a meeting February 21 chaired by Prime Minister Imran Khan, Chaudhry said.
"We have ordered re-imposition of the ban on Jamaat-ud-Dawa (JuD) and its charity wing, the Falah-i-Insaniyat Foundation (FIF) to eradicate extremism," Chaudhry said, referring to the banned groups led by Hafiz Saeed, one of the alleged masterminds of the 2008 Mumbai attacks that killed more than 160 people.
"We have received a notification from the federal government asking the provinces to intensify a crackdown on banned militant groups," Khyber Pakhtunkhwa (KP) Information Minister Shaukat Yousafzai told Pakistan Forward.
The order seeks to expedite action against groups designated as terrorists by the UNSC, he said, adding that all organisations banned under the NAP "have been taken into the government's control".
The KP government has begun seizing the charity wings and ambulances of such banned outfits in line with the directives, Yousafzai said.
Awami National Party Secretary General Mian Iftikhar Hussain said his party has long been demanding strict action against organisations that have been promoting terrorism under the guise of charity work.
"It is a timely measure because there is global pressure on Pakistan to control non-state actors in order to establish peace. We fully support such action," he told Pakistan Forward.
Pakistan has been facing isolation in the world due to the unchecked activities of such organisations, which have raised donations for charity but instead utilised the funds for acts of terrorism, Hussain said.
Seeking a 'durable' peace
Peshawar-based political analyst Khadim Hussain said he welcomes the federal government's action against militant organisations and the freezing of their accounts.
"Terror financing has been a big issue that needs to be stopped," he said. "Seizure of their accounts will handicap the terror outfits."
"Pakistan cannot afford to be held hostage by militant groups, and such actions were required to get rid of the outfits that create chaos in society," Abdur Rehman, a political scientist at the University of Peshawar, told Pakistan Forward.
"For a durable peace, the government needs to brush aside the impression that Pakistan supports terror groups. Our economic development banks on the elimination of [such] groups," he said.
"These are the actions that will draw other nations closer to us. If we want to be a peaceful country, then action against militants is extremely important for regional peace," said Brig. (ret.) Mehmood Shah, a Peshawar-based senior security analyst.
"We need to ensure that no militant group operates in the country," he told Pakistan Forward.
Last month, Pakistan came under criticism at a meeting of the Financial Action Task Force (FATF), a global terrorism financing watchdog, because of militant activity.
"Such actions will lead to the FATF's satisfaction, and our country will emerge as a peaceful country," predicted Shah.