PESHAWAR -- Pakistan has returned a captured Indian Air Force pilot in a goodwill gesture after weeks of tension with India.
Pakistani authorities handed over the pilot, Wing Commander Abhinandan Varthaman, to his compatriots at the Wagah border crossing Friday (March 1).
He was captured in Pakistan-administered Kashmir after Pakistani fighter jets downed his MiG-21 Wednesday (February 27).
Varthaman's repatriation was meant to end a crisis that has convulsed Pakistani-Indian relations for weeks.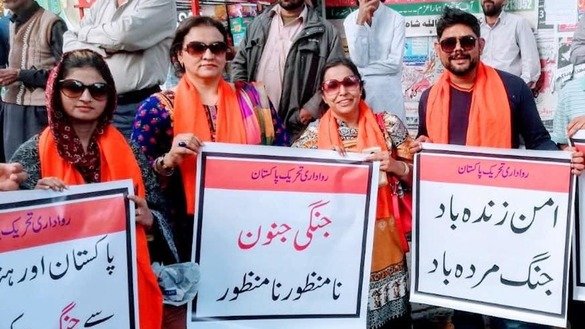 A suicide bomber killed 40 Indian troops in Indian-administered Kashmir February 14. Jaish-e-Muhammad (JeM), a Pakistan-based militant group, claimed responsibility, prompting Indian warplanes Tuesday (February 26) to bomb a JeM training camp in Balakot, Khyber Pakhtunkhwa (KP).
Pakistani and Indian fighter jets then crossed the Line of Control, the de facto border of disputed Kashmir, on Wednesday.
Pakistan, which had closed its airspace Wednesday, on Friday reopened it and handed over Varthaman.
Praise for Islamabad's gesture
Pakistanis from all walks of life overwhelmingly approved of Prime Minister Imran Khan's decision to return Varthaman.
Lawmakers from both the treasury and opposition benches applauded Khan Thursday (February 28) when he announced Varthaman's imminent release.
"It is very clear that the people of India and Pakistan don't want to fight with each other," Beena Sarwar, a US-based journalist and native of Lahore, told Pakistan Forward.
Sarwar edits Aman ki Asha, a Pakistani-Indian forum that promotes peace in the region. The forum operates online as well as in Pakistani and Indian newspapers.
Pakistan clearly sought a "de-escalation of military tensions", said Sarwar. "The only people on either side creating war hype are those who gain politically from continued tensions."
Indian and foreign observers were equally relieved to witness the de-escalation of a crisis.
"Thank you to all those Indians and Pakistanis who relentlessly campaigned for the war to end before it even began," tweeted Indian filmmaker Ram Subramanian Thursday. He thanked Khan for freeing Varthaman.
"The reports of the promise of the release of the Indian pilot by the Pakistani authorities, I think, would be very much a welcomed step," Stephane Dujarric, spokesman for United Nations (UN) Secretary-General António Guterres, said Thursday, according to an UN transcript.
Peace rallies throughout Pakistan
Pro-peace rallies took place Thursday and Friday in various cities, including Islamabad, Lahore and Karachi. The participants urged both governments to de-escalate and to work for peace.
"We demand safe return of Abhinandan Varthaman. No to War," read a placard held by a woman during a rally in Lahore.
Pakistani celebrities echoed the call for peace.
Khan deserves commendation for seeking peace rather than acting like a "vote hungry politician", Nadia Jamil, a Lahore actress, writer and teacher, told Pakistan Forward.
"Let's focus on eradication of extremism from the two countries, quality education, equality amongst provinces, children off the streets and poverty alleviation," she said.
"The government's move can only be commended by anyone, Indian or Pakistani, who is a true believer in peace," tweeted Fatima Bhutto, writer and granddaughter of Zulfiqar Ali Bhutto, the former Pakistani prime minister, Thursday (February 28).
Releasing Varthaman is a "gracious step", Kamran Khan Bangash, a KP provincial cabinet member, tweeted, also on Thursday.
The people of Pakistan are "fed up with wars, bombings and killings and want the country and the region to develop in peace", Peshawar journalist Nisar Mahmood told Pakistan Forward.