ISLAMABAD -- Pakistani Prime Minister Imran Khan called for talks with India Wednesday (February 27) after both sides said they had shot down each other's warplanes.
"I once again invite India to come to the negotiating table," Khan, who has called for dialogue with New Delhi in the past, said in a televised statement.
"Better sense should prevail," he added, "If escalation begins from here, where will it go?"
"Can we afford any miscalculation with the kind of weapons that we have and you have?" he said, referring to the nuclear weapons of both sides.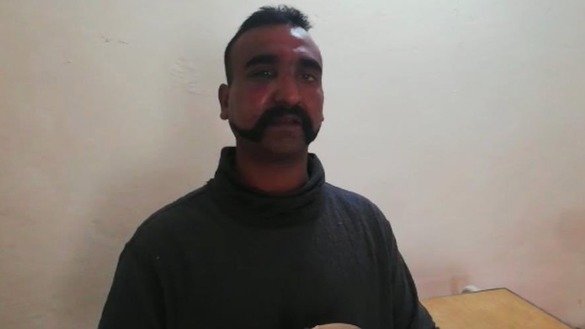 Pakistan insisted it does not "want to go towards war" with its neighbour.
"We do not want escalation; we do not want to go towards war," army spokesman Maj. Gen. Asif Ghafoor told a press conference, while also calling for talks with New Delhi.
Aerial confrontation
Ghafoor said Pakistani planes earlier flew across the Line of Control (LoC), the de facto border in Kashmir, to the Indian side in a show of strength, hitting non-military targets including supply depots.
Afterwards, he said, the two Indian planes crossed the LoC into Pakistani airspace.
"The Pakistan Air Force was ready; they took them on; there was an engagement. As a result both the Indian planes were shot down and the wreckage of one fell on our side, while the wreckage of the other fell on their side," he said.
Ghafoor later confirmed on Twitter that only one Indian pilot, identified as Wing Commander Abhi Nandan, was being held by the Pakistani army.
Indian External Affairs Ministry spokesman Rajeesh Kumar announced after Ghafoor's initial press conference that a Pakistani jet was hit as it took part in an operation "to target military installations on the Indian side".
India has said that just one of its planes was shot down but that it also shot down a Pakistani fighter jet in air battles.
"The Pakistani aircraft was seen by ground forces falling from the sky on the Pakistan side," he told a briefing.
"In this engagement, we have unfortunately lost one MiG-21. The pilot is missing in action. Pakistan has claimed that he is in their custody."
The Pakistani military denied that any of its planes were downed.
Appeal against 'escalation'
The confrontation took place after India Tuesday said its warplanes attacked a Jaish-e-Muhammad (JeM) militant camp in Balakot, Pakistan. The strike was retaliation for the February 14 suicide bombing claimed by JeM that killed 40 Indian troops.
Earlier Wednesday, the Indian external affairs minister sought to ease the situation by downplaying Tuesday's strike, repeating Indian claims that it had been a pre-emptive attack on JeM as the group planned further assaults.
"India does not wish to see further escalation of this situation. India will continue to act with responsibility and restraint," Sushma Swaraj said during talks in China with her counterparts from Beijing and Moscow.
The United States, along with China and the European Union, has called for cooler heads to prevail.
US Secretary of State Mike Pompeo on Tuesday urged India and Pakistan to "exercise restraint", while urging Islamabad to take action against militants.
"We encourage India and Pakistan to exercise restraint, and avoid escalation at any cost," Pompeo said in a statement after speaking with his counterparts from both countries.
Pompeo said that in talks with Pakistani Foreign Minister Shah Mahmood Qureshi, he stressed "the priority of de-escalating current tensions by avoiding military action, and the urgency of Pakistan taking meaningful action against terrorist groups operating on its soil."
Flights axed
Numerous flights were cancelled or diverted Wednesday after Pakistan closed its airspace and India shut airports.
The air traffic disruption was affecting routes passing through the region that are popular with Western holiday-makers, with an industry body saying that a huge number of flights to Southeast Asia may have to be diverted.
Pakistan's Civil Aviation Authority (CAA) and the military said the country's entire airspace had been closed, with a CAA source telling AFP that all airlines had been notified to "suspend their operations in Pakistan until further notice".
Pakistan International Airlines, the country's flag carrier, warned that "flights may be affected due to closure of Pakistan commercial air space".
In India, at least six airports were shut -- Srinagar, Jammu and Leh in Kashmir, plus Amritsar, Chandigarh and Dehradun -- and a vast area of airspace north of New Delhi was closed to civilian flights.