ISLAMABAD -- The international community called on New Delhi and Islamabad to exercise restraint after Indian warplanes attacked a militant camp in Pakistan.
"We remain in contact with both countries and what we believe is essential is that all exercise maximum restraint and avoid further escalation of tensions," European Union spokeswoman Maja Kocijancic told reporters.
India Tuesday (February 26) said its warplanes attacked a militant camp in which Pakistan-backed fighters were preparing suicide attacks on its cities, killing a "very large number" of militants from the Jaish-e-Muhammad (JeM) group.
Pakistani officials confirmed Indian planes breached its airspace and dropped a payload over Balakot, Khyber Pakhtunkhwa, condemning it as "uncalled for aggression" but insisting there was no damage or casualties.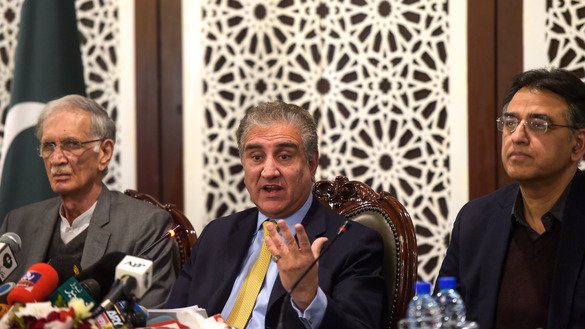 The escalation came after a February 14 suicide bombing claimed by JeM that killed 40 troops in Indian-administered Kashmir, setting off a chain of threats and counter-warnings between the neighbours.
India's government ordered the raid on the JeM camp at Balakot because it believed suicide attacks in India were "imminent", Indian Foreign Secretary Vijay Gokhale told a media briefing.
"A very large number of JeM terrorists, trainers, senior commanders and groups of jihadis who were being trained for fidayeen [suicide] action were eliminated," he said.
Pakistan rejected India's announcement.
The National Security Council "strongly rejected [the] Indian claim of targeting an alleged terrorist camp near Balakot and the claim of heavy casualties", Foreign Minister Shah Mahmood Qureshi told a press conference in Islamabad.
Pakistan has said its fighters scrambled to force the Indian jets back and that they dropped payloads as they escaped.
Drone goes down near border
Meanwhile, India's air force shot down a drone near the frontier with Pakistan Tuesday.
Villagers discovered debris from an unmanned aerial vehicle (UAV) not far from the Pakistan border in western Gujarat state, police sources told AFP.
"A UAV has been shot down by the armed forces. We are investigating it," a senior police officer said on condition of anonymity.
Investigators will probe whether the drone came from Pakistan, he added.
The police officer said villagers in Kutch District -- a remote desert region -- heard a "loud noise" in the early hours of Tuesday.
He did not elaborate further about the downing of the done or its origins, citing "security concerns".