PESHAWAR -- Khyber Pakhtunkhwa (KP) Governor Shah Farman formally inaugurated the "Fruit For All" drive on January 31, planting an orange tree in a residential area of Peshawar.
The drive is aimed at making KP self-sufficient in producing fruit, meeting the food requirements of children and providing access to fruit for the general public, said Shah in a statement.
Under the drive, five million orange trees are to be planted across the province by the end of the year. Participants planted as many as 250 in Hayatabad on the first day.
The National Bank of Pakistan (NBP) is providing all the saplings for the "Fruit For All" initiative, NBP Regional Head KP Saima Rahim told Pakistan Forward.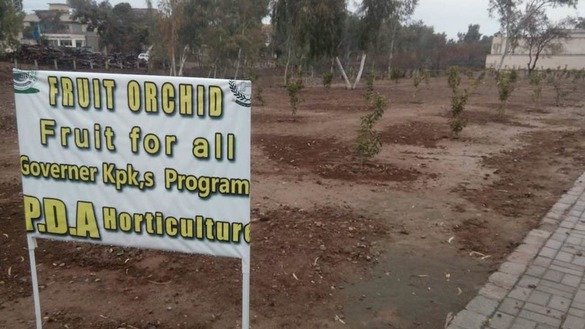 Trees for any institution that asks
The programme is unique in that it will provide fruit trees on demand to different government, semi-government and private institutions, she said.
The planting drive will continue until achievement of the target, hopefully by the end of the year, she added.
"The government plans to plant five million fruit plants in the entire province, including the erstwhile FATA [Federally Administered Tribal Areas]," she said.
"[The NBP] is fully supporting the government in this noble cause," said Rahim. "Soon it will enable the government to provide quality fruit to the masses on their doorsteps."
A special committee has been formed to monitor and protect the plants and to identify different locations in KP and in the newly merged tribal districts to plant the fruit trees, Syed Aamir Hussain, a spokesperson for the governor, told Pakistan Forward.
"The KP Department of Agriculture will ensure the quality of seeds and plants and geographic feasibility," he added.
The department is trying to cultivate the plants in areas accessible to the public, said Hussain.
An awareness campaign is also in the works to inform the general public about the drive and to encourage it to protect the plants, he said.