LAHORE -- Protests planned by Tehreek-e-Labaik Pakistan (TLP) failed to materialise Wednesday (January 30) after Pakistan's Supreme Court rejected a challenge to its acquittal of Christian woman Asia Bibi of the explosive charge of blasphemy.
The TLP, which led weeks of violent mass demonstrations after Bibi was acquitted of blasphemy last October, announced new protests after the Supreme Court upheld her innocence in a fresh ruling Tuesday.
But its leaders remain in detention, and police deployed heavily at the junction between Islamabad and Rawalpindi, which the TLP had designated as a protest site, preventing any huge gathering.
A mere 20 people demonstrated in Lahore while just eight mobilised in Rawalpindi, despite emotive calls from the TLP that its supporters "cannot compromise on the honour of the Prophet", AFP reported.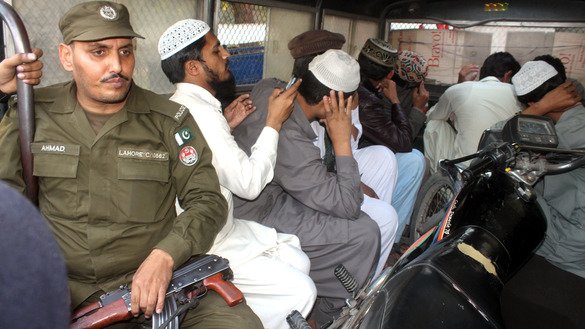 In Rawalpindi, police arrested 55 members of several religious parties, including the TLP, in a division-wide crackdown, Dawn reported.
Protests fizzled
"We were expecting big protests against the rejection of the review petition similar to last November, but we witnessed nothing prominent," said Zain ul Abideen, an assignment editor at a local TV channel in Lahore.
"Some demonstrators came out on Ferozpur Road and blocked traffic for some time, but police dispersed them peacefully," he told Pakistan Forward.
Lahore resident Mian Masood said he had been worried about expected protests on his daily commute. "But surprisingly, there was no roadblock and no hurdles; everything was smooth," he told Pakistan Forward.
A crackdown on the TLP last December saw the arrest of about 3,000 members. TLP leaders including Pir Afzal Qadri, Khadim Hussain Rizvi and several others remain behind bars.
"They are being charged under the Anti-Terrorism Act for inciting public violence against the judges of the Supreme Court and army chief Gen. Qamar Javed Bajwa," Tariq Mehmood, a TV court reporter in Lahore, told Pakistan Forward.
"The government skilfully defused all possible protests by arresting TLP party leaders," Muhammad Abid, a senior reporter with ARY News, told Pakistan Forward.