ISLAMABAD -- Afghanistan and Pakistan appear to be strengthening co-operation to find a political settlement to Afghanistan's 17-year war with the Taliban, while at the same time easing tensions between the two countries.
Afghan President Ashraf Ghani's new special envoy for regional affairs and peace, Mohammad Umer Daudzai, led a four-member delegation to Pakistan January 8-11.
The delegation included newly appointed Afghan Ambassador to Pakistan Atif Mashal and members of the High Peace Council (HPC).
During the four-day visit, Daudzai's delegation conferred with Pakistani Foreign Minister Shah Mehmood Qureshi and other influential religious and political leaders.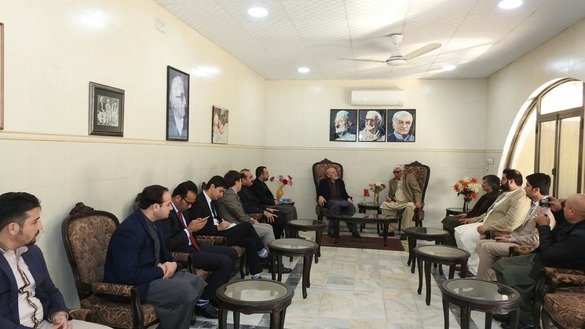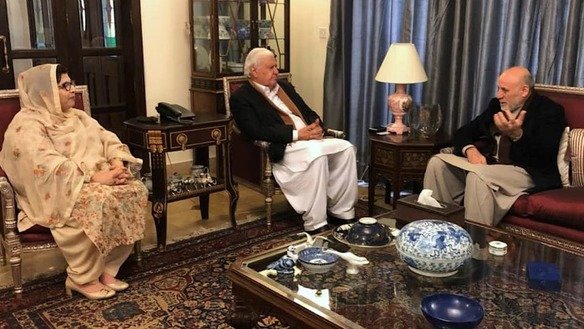 "Peace and stability in Afghanistan are in Pakistan's own best national interest and necessary for economic development and prosperity in the region," Qureshi told the visiting delegation, according to the News International, an English language newspaper in Pakistan.
Daudzai, who assumed his new role as special envoy in December, also leads the HPC Secretariat. He previously served twice as chief of staff for Hamid Karzai, a former president, as well as minister of interior and as ambassador to Pakistan and Iran.
Daudzai is expected to visit other countries in the region as Afghanistan ramps up efforts for peace.
2019: 'a year of peace for Afghanistan'
Daudzai's visit represents an acknowledgment of Pakistan's significance in finding a negotiated settlement to the conflict between the Afghan government and the Taliban, observers say.
Pakistan's civilian government and security institutions are on the same page with respect to bringing peace to Afghanistan, which offers an appropriate setting for holding peace talks, Daudzai said.
"Pakistan's attitude with regards to its western neighbour has changed in the context of current circumstances," he told BBC Urdu in a January 9 interview in Islamabad. "In the present, there is much evidence that Pakistan is playing a positive role in Afghan peace talks."
"We are naming 2019 as a year of peace for Afghanistan," Daudzai told the Associated Press on January 9.
The timing of the Afghan delegation's visit to Pakistan is also significant, said Kabul-based journalist Basir Ahmad Hotak.
"The Daudzai-led delegation is visiting Pakistan at a time when US envoy Zalmay Khalilzad has embarked on a new round of visits to the regional countries as part of his peace mission," he told Pakistan Forward.
According to a statement issued by the US State Department, Khalilzad will lead an inter-agency delegation to visit India, China, Afghanistan and Pakistan from January 8 to 21.
It will be a big test for Daudzai to prove his efforts in creating harmony between the regional countries, Hotak said.
Common goals
Besides meeting with senior Pakistani government officials, Daudzai discussed peace issues with leaders of influential Pakistani political and religious parties, which play an important role in shaping Pakistan's domestic and foreign policy.
In his meeting with Qureshi, Daudzai relayed Ghani's peace message and "expressed Afghanistan's strong desire to work closely with Pakistan in all areas of mutual interest", according to a statement issued by Pakistan's Foreign Office January 8.
The delegation discussed the ongoing peace efforts with various political party leaders, including Awami National Party leader Asfandyar Wali, Qaumi Watan Party chief Aftab Ahmad Khan Sherpao, Jamaat-e-Islami Pakistan chief Siraj ul Haq and Jamiat Ulema-e-Islam (Fazl) chief Maulana Fazl-ur-Rehman.
Hailing Daudzai's visit, Sherpao said his party will play its role in bringing peace to Afghanistan.
"Pakistan and Afghanistan both are badly affected by terrorism and militancy, and it is why they understand the importance of peace in the region," he told Pakistan Forward.
Pakistan's political parties are on the same page regarding the peace-building process in Afghanistan and are interested in seeing it succeed, Sherpao said, adding that peace negotiations will not bear fruit without the participation of the Afghan government.
The delegation's meetings with a cross-section of Pakistani leaders show that Afghanistan is taking an inclusive approach to the peace process, said Hanif Ur Rehman, an Islamabad-based journalist.
"It is a good omen," he told Pakistan Forward. "It will provide everyone with confidence and a sense of ownership."