ISLAMABAD -- Maj. Geoffrey Douglas Langlands, a former British officer who arrived in Pakistan with the Raj and stayed to become one of its most renowned educators, died Wednesday (January 2) in Lahore, Punjab Province, at the age of 101.
Langlands served in the British Indian army during World War II. After Pakistan's independence from the British Raj in 1947, Langlands volunteered to stay on a while longer to help train the new Pakistani military.
His brief posting turned into more than seven decades in Pakistan, during which he left the army to become one of the country's most revered teachers.
During his 25-year teaching career at Aitchison College in Lahore, his students included future Prime Minister Imran Khan and future Foreign Minister Shah Mehmood Qureshi. He taught English and mathematics before being promoted to head master of the semi-private boys' school.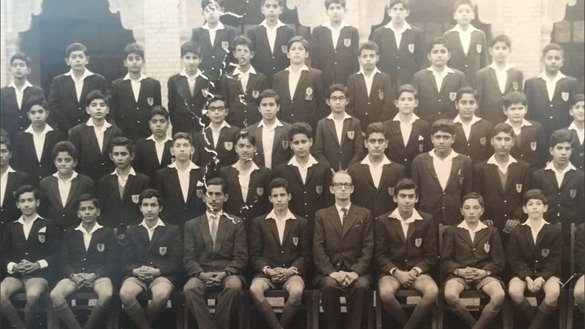 "Aitchison College mourns the passing of Major Geoffrey Douglas Langlands, who left us quietly on Wednesday after a brief illness," the institution said on its website.
"Born on October 21, 1917, and affectionately known to all as 'The Major', we acknowledge the life of a soldier, teacher, gentleman, story-teller, mountaineer and humanitarian, whose life was devoted in service to others and especially his adopted country Pakistan," the college said.
Mourned by many
Prime Minister Khan tweeted a class photo from when he was a 12-year-old student at Aitchison College.
"Saddened to learn of the passing of my teacher. Apart from being our teacher, he instilled the love for trekking and our northern areas in me - before the KKH was built," Khan tweeted, referring to the Karakoram Highway that traverses the northern regions of Pakistan.
In 2009, Langlands told the Guardian newspaper that Khan "owes me quite a lot".
Imran Khan's government and his party, Pakistan Tehreek-e-Insaf, place a special emphasis on education.
"Deeply grieved by the sad demise of Maj. Geoffrey Langlands," Qureshi tweeted. "I had the privilege of being his student at Aitchison College & benefitted from his experience in the class as well as on the sports field."
"May Allah bless his soul. He will be missed but never forgotten," he added.
"Pakistan has lost a great friend and a teacher of generations of its students," tweeted British High Commissioner to Pakistan Thomas Drew.
Kidnapped and released
Langlands spent decades building a school in Pakistan's northwest region.
In contrast to the mission he pursued in his long career, Taliban militants destroy and burn schools, keep girls uneducated, and shut off youth from the outside world.
The long-time educator received two of Pakistan's highest civilian awards and was briefly kidnapped in Pakistan's tribal areas.
He told Britain's Telegraph newspaper in 2012 of his experience being kidnapped while working as the principal of a cadet college in Waziristan District, Khyber Pakhtunkhwa, near the Afghan border.
The militants made him walk for hours through the mountains to their village in the winter, he said.
"The military could not assault the village because we would have been killed, so they got a party of elders to approach the kidnappers," Langlands told the Telegraph. "They said, 'Look, you can't kidnap the principal.' So they agreed to release me."