TEHRAN -- Iranian officials met with the Afghan Taliban, just days after reconciliation talks between a militant delegation and US special envoy Zalmay Khalilzad in the United Arab Emirates (UAE).
Ali Shamkhani, the secretary of Iran's Supreme National Security Council, announced the meeting Wednesday (December 26) while on a visit to the Afghan capital, Kabul, several Iranian agencies reported.
"The Afghan government has been informed of the communications and talks carried out with the Taliban, and this process will continue," he said, quoted by Iran's Tasnim news agency.
No details on where the talks took place were given by Tasnim, an outlet considered close to Iran's Islamic Revolutionary Guard Corps (IRGC).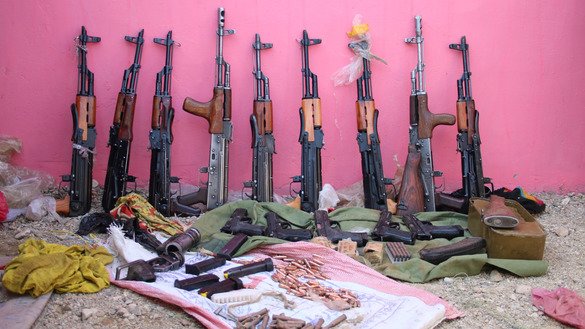 It was the first time that a senior Iranian official had confirmed talks between Iran and the Taliban, Abas Aslani, a reporter for Tasnim, tweeted.
The announcement follows two-day-long peace talks on Afghanistan between US envoy Khalilzad and Taliban representatives in Abu Dhabi December 17-18. Khalilzad described the talks as "productive".
The Taliban said they also held meetings with officials from the UAE, Pakistan and Saudi Arabia but refused to meet an Afghan negotiating team.
Supporting the Taliban
Iran, which shares an almost 600-mile-long border with Afghanistan, has been stepping up its interference amid the renewed diplomatic efforts aimed at ending the 17-year-long conflict.
On December 9, Afghan security forces discovered an arms cache that included Iranian-made weapons in an operation outside Ghazni, the latest evidence of Iran's support to the Taliban in Afghanistan.
Ghazni Governor Wahidullah Kalimzai confirmed that weapons seized during the operation were made in Iran, Radio Farda, a branch of Radio Free Europe/Radio Liberty, reported.
The seized cache "had been stored by the Taliban militants for the sake of terrorist activities in Ghazni Province," Ghazni provincial police chief Ghulam Daud Tarakhil told Salaam Times at the time.
"Iran is 100% involved in the recent events that created insecurity in Ghazni," Tarakhil noted, adding, "All these activities are clear indications of Iran's blatant interference in Afghanistan's internal affairs."
The weapons "show that Iran is working to expand the scope of the war in Afghanistan", said Aminullah Shariq, former governor of Paktika Province.
"This is extremely concerning," he noted.
Meanwhile, on November 29, US officials provided evidence that Iran had been increasingly supplying weapons to militant groups in Afghanistan and across the Middle East.
Recruiting insurgents
Especially worrisome are Iran's efforts to recruit for the Taliban.
On October 25, Farah Governor Mohammad Shoaib Sabet pointed a finger at Iran, saying in an interview with the Voice of America, that Tehran is behind the increased insecurity in western Afghanistan.
"The issue is the construction of Bakhshabad Dam, which is problematic for Iran," he said. "It does not want the dam. It has intensified the fighting every time we resumed construction."
Pointing to the troubling development of Iran recruiting young Afghan immigrants to fight within the Taliban ranks in Afghanistan, Herat-based political analyst Aref Kyani said, "There are credible reports that some Iran-based Taliban commanders often travel to western provinces of Afghanistan such as Farah and Nimroz."
"Some young Afghans who have gone to work in Iran and whom the Iranian authorities arrest inside Iran or threaten to deport are instead handed over to Taliban groups based in Iran so that they can recruit those youth," said Mohammad Arif Noori, spokesman for the Ghazni provincial governor.
"These young men then undergo military training provided by Iranian operatives in Zahedan city and in other regions that share the border with Afghanistan," he said. "Following the training, the young men are sent back to Afghanistan to fight."