PESHAWAR -- A truck in Peshawar with one of Hayat Khan's paintings features a young girl studying a book under a thick green tree. Accompanying it is a message: "Education is light."
Khan, 55, has been painting colourful portraits on trucks for the past 45 years. His subjects previously ranged from film actresses and animals to scenic landscapes and army generals.
Since 2005, however, Khan has mostly focused on painting portraits of girls going to school.
Truck owners initially lacked interest in paintings with subjects chosen by the artists, Khan told Pakistan Forward.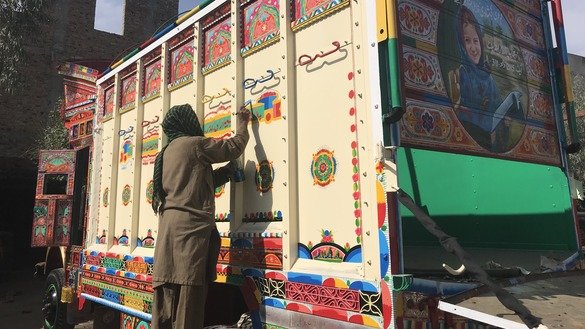 "But once they saw our campaign of promoting education through truck art, they began coming by themselves and asked to paint the same on their truck," said Khan.
"We used to paint actresses, beautiful scenery and generals. But they were meaningless subjects," Khan said of the past.
Khan began promoting girls' education after he met with renowned anthropologist and filmmaker Samar Minallah Khan in 2003.
"Visuals have a strong impact, and trucks help in carrying the messages from one part of Pakistan to the other," Samar told Pakistan Forward.
In Khyber Pakhtunkhwa, the trucks roam largely with messages that promote and encourage female education.
The message is different in Punjab, however. Trucks there advocate against "swara", a form of forced child marriage in which a young girl is given away as punishment for some crime committed by her male relatives.
The Asian Development Bank (ADB) and UNESCO have been supporting the initiative.
"A truck can change the meaning of life for girls -- one truck at a time," Irum Ahsan, ADB senior legal counsel, told Pakistan Forward.