QUETTA -- Pakistani security personnel have arrested seven Iranian citizens in Balochistan Province, who allegedly were using fake Pakistani travel documents and national identity cards to travel, officials said.
Officials from the Federal Investigation Agency (FIA) detained the suspects Tuesday (December 18) at Turbat International Airport in Balochistan.
"All suspects possessed forged Pakistani travel documents, including passports and national identity cards," Fawad Haider, a senior Quetta-based security official, told Pakistan Forward.
"The arrest of these suspected Iranian nationals is part of Pakistan's special move against foreign influence in the country," he said. "Intelligence agencies, which are on the track of counter-terrorism, are keenly monitoring all travellers at airports."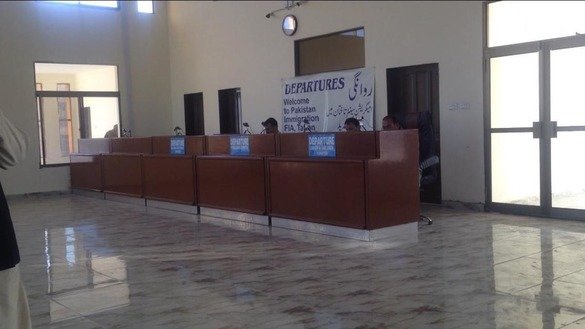 Authorities have registered cases against all seven suspects, who have been moved to Quetta for further investigation, said Haider.
"The initial interrogations revealed that the detained suspects obtained forged passports and Pakistani national identity cards via local offices at Turbat," Haider said, adding, "A high-level interrogation is also under way against those officials whose criminal negligence facilitated the issuance of fake documents to Iranian nationals."
Many phony cards blocked
During the past few months, officials at the National Database and Registration Authority (NADRA) -- the body in charge of issuing national ID cards -- have blocked a large number of fake Pakistani national ID cards that had been issued in different parts of Balochistan, said sources.
Security agencies have arrested several NADRA officials in the past for their reported involvement in issuing phony documents to foreigners in Quetta and other parts of the province. Such agencies in Balochistan are using a smart verification alert system linked with the national database to identify fake documents.
"The arrested Iranian citizens are from Sistan-Baluchistan Province, Iran, and they had been travelling to Bahrain and Pakistan on these fake documents since 2014," an FIA official posted at Gwadar port told Pakistan Forward on the condition of anonymity.
"We were already having reports that some elements may enter Pakistan using phony identification for anti-state activities; therefore, all security agencies, including immigration officials, were on alert," he added.
"Officials are also investigating the possibility that the held Iranian suspects may have been allegedly linked with Iranian intelligence," the FIA official noted.
"We, therefore, expect more developments in these investigations," he added.