PESHAWAR -- Khyber Pakhtunkhwa (KP) has inaugurated its first state-of-the-art burn and trauma centre to provide treatment and post-operative recuperation facilities all under a single roof to its patients.
Before the centre became fully operational in Peshawar late November, KP burn patients had to go to Islamabad and Kharian, Punjab Province, distances that added to their mental and physical distress.
The 120-bed facility has 50 reserved beds for burn patients and the remainder for patients who need plastic and reconstructive surgeries, Dr. Tahir Khan, the director of the burn centre, told Pakistan Forward.
That includes "an intensive care unit of eight beds, 24 beds for burn-related injuries and 12 beds for children, as well as eight modern and well-equipped operation theatres for conducting simple and complicated surgical procedures according to patient condition", he said.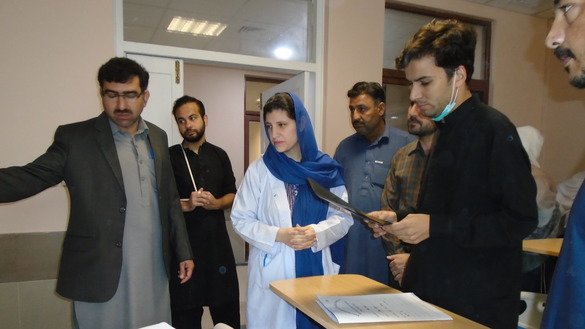 The project was launched with the help and input of government officials and the US Agency for International Development (USAID), which provided Rs. 1.11 billion ($8 million) necessary to equip the facility. KP authorities also contributed Rs. 300 million ($2 million) for the construction work, Khan said.
"The centre will not only reduce patient burden on other major hospitals but give burn victims all the needed treatment and assistance in a facility that is fully equipped and manned by competent staff with the relevant expertise," he said.
Training health professionals
The centre will also help train health professionals to treat burn and trauma patients, enabling them to work independently at the district level, according to Khan.
"Timely and precise treatment of patients, especially those with burns, could prevent complications that often lead to permanent disabilities and disfigurement," he noted.
"Reconstructive surgery is a complex and difficult procedure that not only demands patience from the patient but also extraordinary skills from the professionals who perform the procedure," Dr. Tahmeedullah Tahmeed, the centre's director of medical education and a member of the American Association of Plastic Surgeons, told Pakistan Forward.
The centre has two professors, two associate professors, four assistant professors, two senior registrars and fifteen medical officers who are fully capable of dealing with emergencies and trauma, he said.
Seven anesthetists and a staff of 500, including nurses and technicians, have also been hired to work in the facility, Tahmeed explained.
"Our medical professionals have the ability to conduct all the complicated procedures to treat congenital dysfunction as well as constructive plastic surgeries after burns, trauma and accidents," he added.
Helping the patients
The bulk of the patients who suffer disfigurement or the loss of a body part after reconstructive surgery need psychological and physical rehabilitation to overcome their trauma, Tahmeed said, adding that the centre also provides such services.
"We are trying to create an environment that can ensure the staff ably deals with emergencies," he said. "With the establishment of a trauma and burn centre in KP, we are now fully able to treat patients burned in blasts and terror incidents."
"We are also planning to establish a skin culturing lab for burn patients who lost a major portion of their skin," he added.
"My forefingers were crushed in the machine of a biscuit factory in Lahore [Punjab Province], and part of the skin from my hand was torn away during the accident," Zahid, a 22-year-old centre patient who goes by one name, told Pakistan Forward.
Doctors who did not specialise in his injury were unable to care for him, said Zahid.
"I came to the burn centre as it had all the necessary facilities for my treatment," he said. "This facility will end the miseries of many like me who in the past had to leave KP to find treatment."