ISLAMABAD -- Pakistan plans to impose a "sin tax" on consumers of tobacco and sugary beverages and intends to steer the proceeds toward supporting and improving basic health care.
The government of Prime Minister Imran Khan is committed to increasing the health budget by 5% of GDP, Federal Minister for National Health Services, Regulation and Coordination (NHS) Aamer Mehmood Kiani said at a public health conference in Islamabad December 5, Dawn reported.
"Various routes will be used to increase the health budget," he said, adding that one such method "is imposing a sin tax on tobacco products and sugary beverages. That sum will be diverted to the health budget."
The World Health Organisation (WHO)'s benchmark for a country's healthcare spending is 6% of GDP.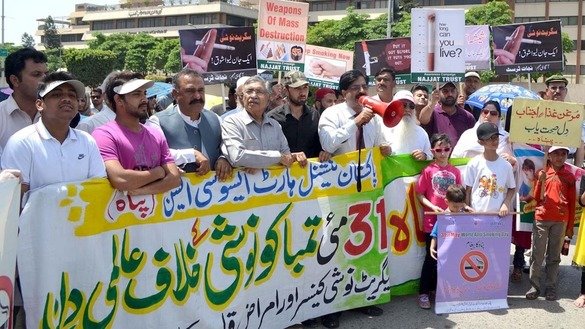 The government spends a mere 0.6% of GDP on health, Kiani said. Observers have suggested such a tax several times in the past.
The National Assembly will receive a draft bill mandating a sin tax on sugary beverages and tobacco, said Dr. Assad Hafeez, director-general of health at the Ministry of NHS.
"Our legislation will lead to taxation of the users of tobacco, candies, soft drinks, fast foods, coffee and sugar," he explained.
Strengthening public health
In several countries where similar taxes are in place, including the United States, United Kingdom and Thailand among others, such revenues improve hospitals and help ensure a steady supply of medicine, said Hafeez.
A sin tax "will strengthen the public health system and reduce the use of substances that are injurious to health", he said.
It makes sense to tax consumers who burden a country's medical system, she said, noting that those who undermine their own health through smoking and other vices squander medical resources that others could use.
Taxes will reduce the use of various tobacco products because youth will not be able to afford the increased prices, predicted Hafeez.
Every day, an estimated 1,500 young Pakistanis begin smoking, he said.
"The law is in line with the [WHO's] Framework Convention on Tobacco Control, which seeks to control the consumption of tobacco and put the brakes on diseases, especially cancer, tuberculosis and asthma," he said.
A 'welcome step'
Pakistani health professional and WHO analysts have welcomed the tax as a means to protect public health.
"It is a welcome step," said Dr. Nima Saeed Abid, WHO's acting representative in Pakistan.
"About 45 countries have imposed such taxes, and the money collected is spent on public health, such as promoting nutrition, immunisation and the prevention of non-communicable and cardiovascular diseases," he told Pakistan Forward.
It was WHO that recommended imposing taxes on unhealthy drinks and tobacco and then channeling the revenue to public health, Abid said. "It is extremely useful for the public, as it reduces tobacco use and leads to the promotion of public health and healthy living. We support the move completely."
The decision taken by the government, if it becomes law, will prove extremely useful to society, Dr. Arshad Javaid, president of the Pakistan Chest Society, told Pakistan Forward.
"We have been demanding measures to reduce the sale of tobacco products and lessen the burden of diseases," he said, stressing the need to reduce disease incidence and upgrade medical care.
Tobacco causes 108,800 fatalities in Pakistan every year, according to Sanaullah Ghumman, general secretary of the Pakistan National Heart Association, as reported by Dawn. Ghumman cited a study conducted by the Ministry of NHS.
Consumption of tobacco, unchecked, will drive up the country's medical bills and impose huge human cost, he said.