ISLAMABAD -- In an attempt to overcome severe smog in the wintertime, Pakistani officials have ordered the closure of all traditional brick kilns for at least 70 days, from October until the end of December.
Smog creates problems in various parts of the country, mainly in Punjab Province, from mid-October through January.
Kiln owners and workers have challenged the government's decision in court, arguing the government's decision has affected their livelihoods. The litigation process is under way with the most recent hearing held November 28.
Although the ban remains in place, kilns have continued to operate.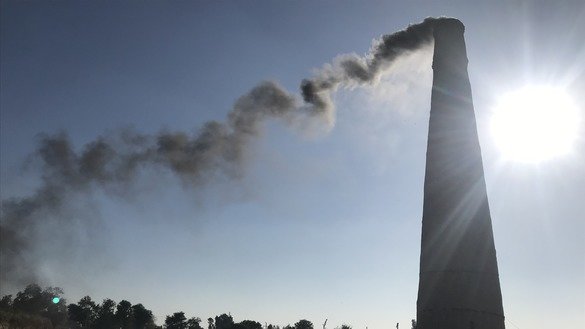 Brick kilns are not the sole cause of poor visibility and environmental problems that plague the region, say foes of the ban. Vehicle emissions and burning of agricultural lands, including rice and wheat fields after the harvest season, are other contributing factors.
More importantly, the decision to close down the kilns for over three months deprives thousands of workers of their livelihoods, which potentially creates other social problems and insecurity.
"Almost 600 people work in our brick kiln," said Ehsanullah, an assistant who goes by one name at a brick kiln in Fateh Jang Tehsil, Punjab Province. "If you take away ... their jobs, what will they do?"
Fateh Jang, about 40km from Islamabad, has about 60 traditional brick kilns.
Altogether, Pakistan has an estimated 20,000 brick kilns, according to the Climate & Clean Air Coalition (CCAC), an inter-governmental organisation committed to protecting the climate. About 80% of these kilns primarily burn local coal, according to Pakistan's Ministry of Climate Change.
Moving to cleaner, cost-effective technology
Meanwhile, Pakistani officials are working to promote an alternative to traditional brick kilns across the country.
The Punjab Environment Protection Department and the National Energy Efficient Conservation Authority are working closely with the All Bricks Kiln Owners Association of Pakistan to introduce environmentally friendly and cost-effective brick kiln technology, the CCAC reported in April.
The plan is to convert traditional kilns to zig-zag kilns, which have shown to use less coal, produce lower levels of air pollution, be more efficient, and create higher quality bricks.
Mohammad Ikram, a kiln owner who installed zig-zag technology as a pilot project in Raiwind, Iqbal Tehsil, Punjab Province, said the technology was very effective in reducing costs and pollution, The Express Tribune reported September 10.
Though Ehsanullah, the assistant at the brick kiln in Fateh Jang, supports the move to an environmentally friendlier technology, he said implementing such technology is cost prohibitive without loans and assistance from the government.
The government must come up with an effective long-term strategy instead of opting for the easier option of imposing a three-month ban on the brick kiln industry, said Irfan Ullah Marwat, a Peshawar-based environmentalist.
"Authorities need to create awareness in the country and eliminate all those hazards gradually," he told Pakistan Forward, adding that the abrupt decision to close the kilns could harm the economy.