PESHAWAR -- The first ever cricket league for Afghan refugees residing in Khyber Pakhtunkhwa (KP) kicked off Wednesday (December 5) at Arbab Niaz Cricket Stadium in Peshawar.
The Twenty20 (T20) league is part of an effort to engage Afghan refugee youth and draw them away from illegal activities, said Ihsanullah Khan, director of education and development at the KP Commissionerate Afghan Refugees (CAR).
"Peace is our motive behind holding sports activities," said Khan, who organised the tournament.
CAR is a governmental body that manages 43 refugee camps in KP with funding from the the United Nations High Commissioner for Refugees (UNHCR).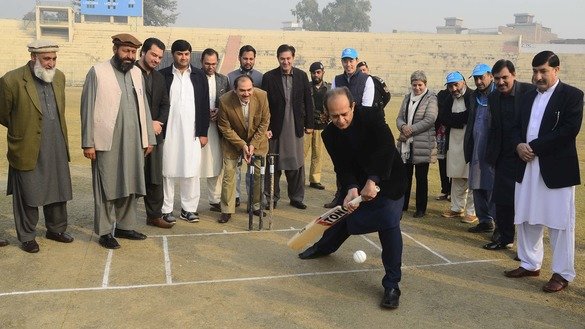 UNHCR is sponsoring the new cricket league.
"Most of the refugees live in camps and belong to poor families, due to which they can be lured by extremists to join their rank and file," he told Pakistan Forward.
Ten teams are playing in the league. The two best teams will compete in a final December 10. Players have received uniforms and cricket kits, according to Khan.
"There are 35 registered teams in the camps, and we are going to hold a district-level competition to develop youngsters into useful people," he said, speaking about future plans for the league.
Engaging youth in positive activities
The league will show the world that Afghans are peaceful and oppose terrorism, said Commissioner for Afghan Refugees in KP Muhammad Abbas Khan while inaugurating the event.
"We have decided to make an annual event," he said. "We will be holding camp level contests and the qualifiers will be given chances to compete in the league in future."
Players from refugee camps in Mardan, Peshawar, Haripur, Kohat, Hangu, Charsadda and Nowshera will participate, he said.
"Sports is the best way to keep the public away from violence and anti-social activities," Abbas said.
The tournament is a blessing, said Afghan players.
The team is thankful that CAR and UNHCR have given it the opportunity to polish its skills, said Shafiqullah Shah, 22, the opening batsman for the Mardan Refugees' Team.
"Most of the cricketers who are playing at the international level have learned the game here," he told Pakistan Forward. "We also aim to become good players."
"Cricket has become more popular among Afghan refugees, and it should be used to engage Afghan boys in positive activities," he said.