LAHORE -- Pakistani authorities over the weekend charged members of Tehreek-e-Labaik Pakistan (TLP), a hardline religious political party known for whipping up anger over blasphemy issues, with sedition and terrorism.
Officials have filed the charges against Khadim Hussain Rizvi and other TLP leaders for their involvement in destructive activities, inciting the public to commit violence, Fawad Chaudhry, federal minister for information and broadcasting, said in Islamabad Saturday (December 1).
Rizvi and his party held protests after the Supreme Court overturned in October the death penalty for Asia Bibi, a Christian woman whom it acquitted of blasphemy charges.
In an October 31 news conference in Lahore, Rizvi and another TLP leader, Afzal Qadri, called for the murder of the three Supreme Court judges who acquitted Asia Bibi and urged army officers to overthrow Chief of Army Staff Gen. Qamar Javed Bajwa.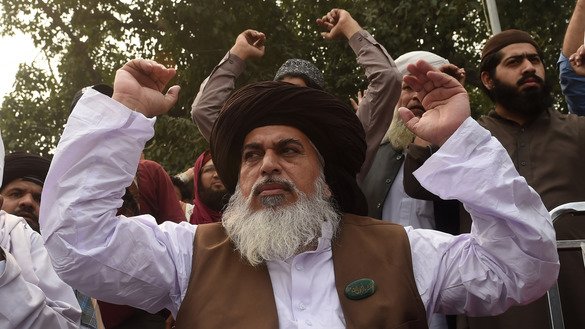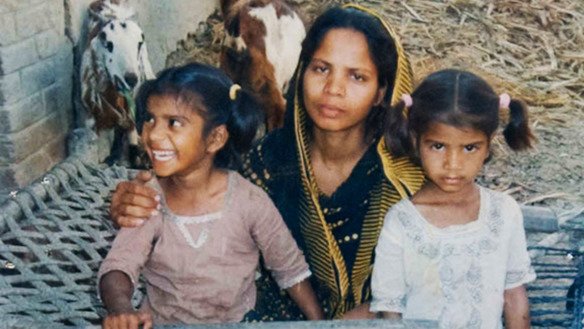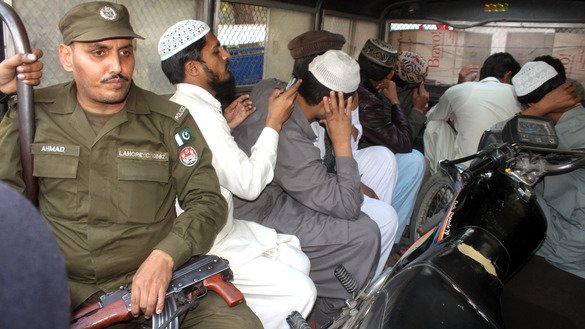 Demonstrators blocked major roads in protest, burning cars and buses, and leaving large swaths of the country paralysed as they called for Bibi's execution.
Crackdown hits TLP
Rizvi was detained November 24 after police cracked down on hundreds of his supporters in Punjab Province and the port city of Karachi.
The police subsequently arrested more than 3,000 TLP members and their leaders as part of a nationwide crackdown during the last week of November.
"The law enforcement agencies arrested 2,899 TLP workers from different Punjab districts, 139 from Sindh and 126 from the Capital Territory of Islamabad," Chaudhry said.
Rivzi was charged with treason and terrorism, while Qadri was charged with inciting violence in Gujrat. Enayat ul Haq Shah and and Hafiz Farooqul Hassan face similar charges in Rawalpindi, according to Chaudhry.
"The TLP leaders violated the law and constitution during their countrywide strike in the first week of November," he said. "They were involved in the destruction of state property -- which caused a loss of Rs. 50 million [$360,000]."
The TLP emerged after it protested the February 2016 execution of Mumtaz Qadri, the murderer of Salman Taseer, a governor of Punjab who supported Bibi, Qazzafi Butt, a senior journalist covering religious political parties and groups in Lahore, told Pakistan Forward.
The group also held demonstrations in Faizabad in Rawalpindi in November last year against an amendment that altered some wording in the oath, where candidates avow that the Prophet Muhammad (PBUH) was the last prophet, according to Butt. The government withdrew the amendment, and Minister of Law and Justice Zahid Hamid resigned under pressure.
Cutting TLP links
The crackdown on the TLP has forced members underground, while others have left the group, said Butt.
"The TLP is not an organised party like others; it only plays on the masses' religious sentiments, and so far it has been successful in attracting them, especially on the issue of blasphemy," he said.
"TLP has no organised roots in the masses -- that's why when it faced a crackdown, its workers had to opt for other groups," Asim Naseer, a Lahore-based senior journalist and analyst, told Pakistan Forward.
Some TLP workers have announced they are cutting ties with the TLP through newspaper advertisements, Naseer said.
"My two brothers were affiliated with the TLP, but now they have left this group," Tanveer, a Lahore resident, told Pakistan Forward. "We have assured the police that we have nothing to do with the TLP."
His brothers need "to publish advertisements to announce their disassociation with TLP in different newspapers", Tanveer said.
Dr. Asif Ashraf Jalali, a founding member of the TLP, is among those who have split from the group and Rizvi. He has formed his own splinter group.
"We believe in peaceful and democratic protest, and this is our main difference with Rizvi, who always calls for violence," Jalil Baig, a spokesman for Jalali, told Pakistan Forward.
"We have denounced the statements uttered by Khadim Rizvi and Afzal Qadri against the army and judges and have said that we are not in favour of such statements by TLP leadership," Baig added.