PESHAWAR -- The Khyber Pakhtunkhwa (KP) Police performed special high-altitude counter-terrorism exercises Friday (November 30) in the snow-clad mountains of Chitral District.
"The exercises are being carried out on the directives of KP Inspector General of Police Salahuddin Mehsud and are aimed to protect the foreigners and visitors who are visiting the area," Mohammad Furqan, the police chief of Chitral District, told Pakistan Forward.
The exercises occurred at the more than 9,000-feet high in the mountains of Shogoor valley, he said.
"The purpose is to train the police force to fight in any circumstances and to show that the country's law enforcement agencies are ready to take on any threat," said Furqan.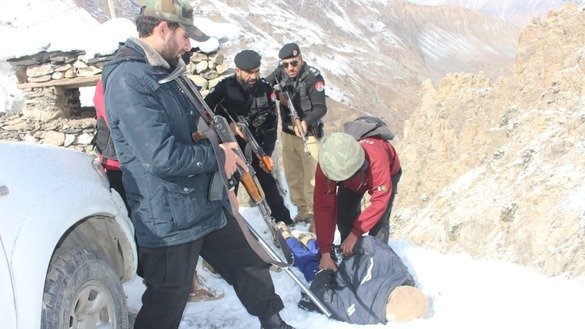 Edge over militants
The military has countered terror-related threats in Malakand in Swat District, many areas in the tribal belt, and Gilgit-Baltistan, Brig. (ret.) Mehmood Shah, a Peshawar-based senior security analyst, told Pakistan Forward.
It is now time for the country's police to assume anti-terror responsibilities, according to Shah.
"Training the police and running drills in such a high altitude are surely a good tactical move and will deter any militant threat that relies on a policy of hit and run," he said.
"It's good that we have specialised police squads to deal with special situations, and such exercises will make our police force more resilient in fighting terrorism and protecting foreigners and ordinary Pakistanis," Dr. Syed Hussain Shaheed Soherwordi, chairman of the Peace and Conflict Studies Department at the University of Peshawar, told Pakistan Forward.
Training under such extreme weather conditions will help the police force gain an edge over militants who have long used the high mountains to hit their targets, he added.
Encouraging foreigners
Brazilian Ambassador to Pakistan Claudio Raja Gabaglia Lins told Pakistan Forward during a visit to Peshawar that he had been to the northern areas of Gilgit-Baltistan and to the Chitral region.
"I would request the people around the world to come visit Pakistan's northern region, which is not only beautiful and scenic but also peaceful and serene," he said.
"Although media reports sometimes deter foreigners from visiting these areas, I am more than satisfied with the security measures," Lins said.