LAHORE -- Prime Minister Imran Khan on Wednesday (November 28) took part in the ground-breaking ceremony of a religious corridor linking Pakistan and India.
The Kartarpur Corridor is aimed at connecting the Sikh holy shrine of Gurdwara Darbar Sahib in Kartarpur, Pakistan, to Gurdwara Dera Baba Nanak holy shrine in Gurdaspur District, India.
Pakistani Chief of Army Staff Gen. Qamar Javed Bajwa, Indian Minister of Food Processing Industries Harsimrat Kaur Badal, Navjot Singh Sidhu (minister of Local Government, Tourism, Cultural Affairs and Museums for Punjab State, India) and journalists attended the ceremony.
"Today I want to welcome all our guests, our Sikh brothers and sisters who have come from all around the world," Khan said, according to Dawn.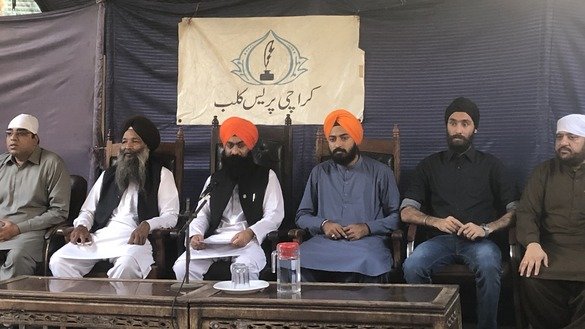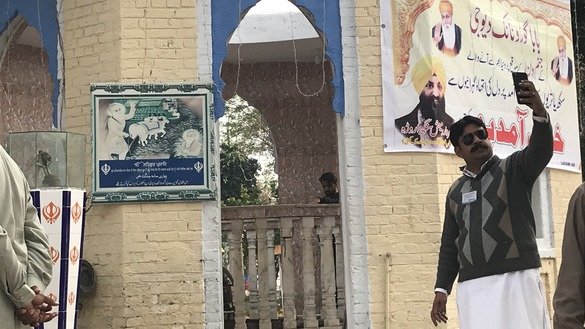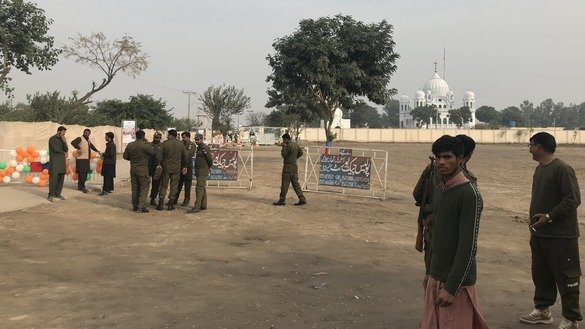 "Where Pakistan and India stand today, we have seen such a situation for 70 years now," he said. "We should not live in the past."
"We still do not have the resolve to decide that, no matter what, we must improve our ties," Khan said.
Improving access
Thousands of Sikh devotees from India and the rest of the world visit Pakistan every year to celebrate the birth anniversary of Guru Nanak, the founder of Sikhism.
This year, the Pakistani High Commission in New Delhi issued more than 3,500 visas to Sikh pilgrims who wished to attend the celebrations.
The new corridor, which will not require visas, is aimed at providing easy access to Sikh pilgrims from India.
Previously, such pilgrims had to travel hundreds of kilometres through a different border crossing to visit Gurdwara Darbar Sahib, situated in Narowal District, Pakistan, just just 4km from the border.
Narinjan Singh, a 75-year-old London resident, was among those who visited the gurdwara on Tuesday (November 27).
"This is such a fascinating moment for me," Singh told Pakistan Forward. "I came here before as well; however, the initiative taken by both countries to open the corridor is worth seeing."
"We hope everything concludes harmoniously," he said.
Muhammad Ramzan, a 22-year-old Muslim who lives near the gurdwara, said he also believes in the virtues of Guru Nanak, or Baba.
"I visit the shrine almost every day," he told Pakistan Forward. "In fact, I start my day after paying a visit to the shrine."
"We Muslims go to the gravesite out of respect, whereas the Sikhs go inside the shrine to pay respect to the founder of their religion," he said.
'No greater joy'
The initiative is a positive step in reducing tension between Pakistan and India, said Sikh community leaders and civil society activists.
The visa-free entry of Sikh pilgrims to Gurdwara Darbar Sahib will be a great service, said Sardar Ramesh Singh, chairman of the Pakistan Sikh Council.
"On the 550th birthday of Guru Nanak, there can be no greater joy than this for the community members living on both sides of the border," he told Pakistan Forward, adding that the Sikh community and pilgrims have been seeking the establishment of the corridor for years.
The Pakistan-India Peoples' Forum for Peace and Democracy (PIPFPD) also hailed the establishment of the corridor and the Pakistani government's invitation of Indian peace activists and journalists to the ground-breaking ceremony.
"People-to-people contact is essential for easing tension, and opening up the Kartarpur border for Sikh pilgrims is a good development," the PIPFPD said in a statement Tuesday.
"The opening of the Kartarpur corridor with India is also a vital gesture by Pakistan and suggests that it wants to have peaceful relations with India," Aziz Ahmad Khan, former Pakistani high commissioner to India, told Pakistan Forward.
[Zia Ur Rehman in Karachi contributed to this report.]