PESHAWAR -- Residents of Sardaryab, a small town on the banks of the Kabul River in Charsadda District, Khyber Pakhtunkhwa, have developed a new business of extracting colourful stones to use in various artisanal projects.
"Our people previously used these colourful stones only to beautify graves," Tasbeeh Ullah, owner of the Sardaryab stone business, told Pakistan Forward.
"Now, however, we have innovated," he said. "My workers are extracting about 16 colours of stones from the Kabul River, which is near my stone shop."
"Our business is growing, and now we are even exporting the beautiful shiny stones to China, Kuwait and the Middle Eastern countries," Tasbeeh explained.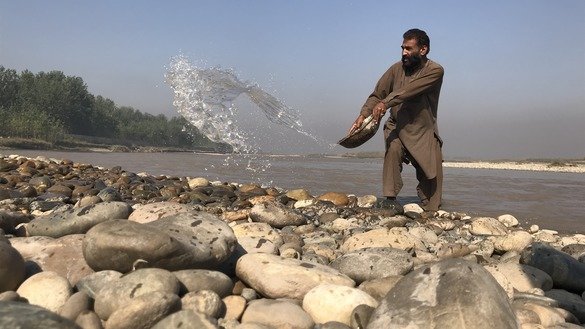 The new business is creating more jobs in the region. Tasbeeh has 18 employees.
Local customers also seek out the stones for use at home and in floral gardens.
"I am taking these stones to make flower beds," said Tashreef Ullah, not a relative of Tasbeeh. "It will give the flowers a new look."
Times have changed and local residents do not want to continue using cement and paint for flower beds' retaining walls, he told Pakistan Forward. "These small, beautiful, colourful stones are a good replacement."
Winter provides the best time to extract stones from the river because the water is at low ebb.
"In summer, the water is high, and it's risky to go after stones," says Iqbal Khan, 58, who has been working with Tasbeeh for several years in the store.
"It's a lucrative business," he told Pakistan Forward, adding, "We are extracting stones of more than a dozen colours from the river."
"Green, yellow, black and white are in great demand," he added.