KARACHI -- Sindh authorities have formed a specialised police unit to ensure that targeted killings based on victims' political, sectarian and ethnic backgrounds cannot make a return to the area.
After five years of hard work by various law enforcement and security agencies, Karachi has largely dropped its reputation as a hotbed of sectarian and ethnic warfare.
On October 30, Sindh Police announced it would set up "Target Killing Working Groups," a dedicated force to curb targeted killings of law enforcement officials and influential political and religious figures.
The group has been tasked with gathering intelligence, analysing links between international and domestic networks involved in targeted killings.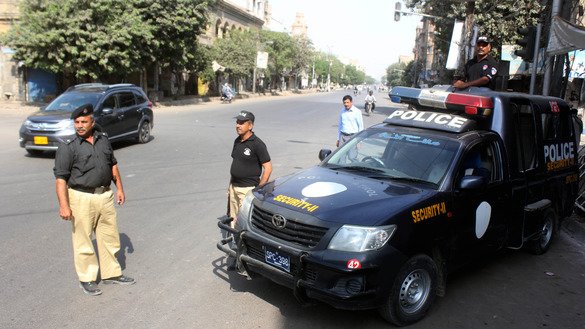 Syed Ali Raza, a senior police official known for his involvement in counter-terrorism operations, was appointed to lead the force.
The unit seeks to choke off the weapons and money flow to groups involved in targeted killings, Raza told Pakistan Forward.
Decline in targeted killings
During the past decade, and particularly between 2007-2013, Karachi was considered one of Pakistan's most violent cities.
Thousands of killings from different types of violence occurred in the city, including terrorism, targeted killings and sectarian attacks. In 2013 alone, an uptick in violent crimes resulted in an estimated 2,700 slayings, making it by far the deadliest year in Karachi, the Express Tribune reported in January 2014.
However, a law enforcement operation launched in September 2013, still under way today, has curbed the activities of different violent groups and has drastically decreased the number of targeted killings.
The Sindh Rangers, the paramilitary law enforcement force, have carried out over 14,000 raids since the start of the operation and arrested over 10,000 suspects, according to the paramilitary force.
Those arrested included nearly 2,000 accused of involvement in targeted killings, it said.
A positive impact
The continuous crackdown has greatly weakened violent groups involved in targeted killings, said Mohammad Nafees, a Karachi-based researcher and analyst of terrorism trends.
"Most of those killed were targeted in turf wars between various political groups, but the operation has disabled the groups to a great extent," Nafees, who is associated with the Islamabad-based Centre for Research and Security Studies (CRSS) security think-tank, told Pakistan Forward.
Orangi Town, an impoverished neighbourhood in Karachi that previously saw numerous incidents of targeted violence, has not seen any politically motivated slayings in the past few years, thanks to the crackdown, according to Kamil Hussain, a local trader in Karachi.
Allama Mohammad Ehsan Siddique, a leader of the Interfaith Commission of Peace and Harmony, a Karachi-based non-government peace initiative, confirmed a drop in the killings of religious scholars and of members of specific sects.
"The weakening of proscribed sectarian and militant groups has helped the peace-building organisations to foster their work in the city," Siddique told Pakistan Forward.