PESHAWAR -- Pakistanis across the country are condemning the kidnapping and murder of Peshawar Superintendent of Police Tahir Khan Dawar, who was laid to rest in Hayatabad Thursday (November 15).
Dawar was kidnapped October 26 in Islamabad, where he had gone on short leave.
Reports began emerging earlier this week that he had been found dead in Afghanistan.
His body was recovered and handed over to Pakistani authorities and tribal elders Thursday at Torkham, and then airlifted to Peshawar where funeral prayers were offered at Malik Saad Shaheed Police Lines.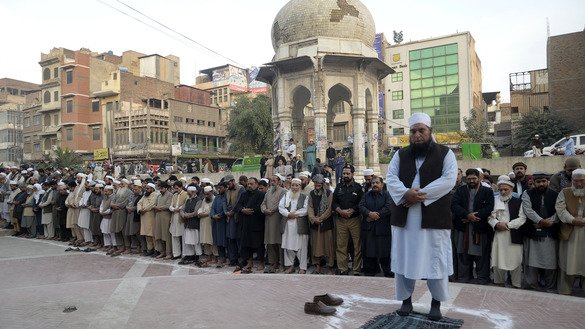 Khyber Pakhtunkhwa (KP) Governor Shah Farman, KP Chief Minister Mahmood Khan, Minister of State for Interior Shehryar Afridi and KP Inspector General of Police (IGP) Salahuddin Khan Mehsud, among other officials, attended the funeral.
'A brave police officer'
"We have lost one of our bravest officers," Capital City Police Officer Peshawar Qazi Jamil ur Rehman told Pakistan Forward, adding that KP Police is proud of Dawar's service to Pakistan.
"His death is a big loss. He was a brave police officer," former KP IGP Nasir Khan Durrani told Pakistan Forward.
"He was extraordinarily brave and for that he was shot and attacked many times," said Senior Superintendent of Police Sajjad Khan, Dawar's superior in Peshawar and Bannu.
"Apart from surviving two suicide bombings, he was once shot in an encounter in Bannu," he told Pakistan Forward.
Dawar "remained in the news wherever he was posted," said Qaisar Khan, a Peshawar-based journalist.
"The news of his death has been covered widely unlike any other policeman," he told Pakistan Forward.
Dawar had formed an association of officers from his tribe to help poor tribesmen and work for the development of his area, Khan said.
"He was supporting a number of poor people's education and was always found rushing to help if needed by his fellow tribesmen," he said.
Calls for justice
Politicians and citizens from all walks of life have condemned Dawar's slaying.
"We have given a call for rallies all over KP to condemn and protest the brutal killing of brave Tahir Dawar," Ameer Haider Hoti, a member of the National Assembly and KP provincial chief of the Awami National Party, said in a statement.
The rallies are scheduled for Saturday (November 17).
"The government should award a gallantry medal to the police officer for his bravery and actions against terrorists and probe as to how he was kidnapped from the capital and later found dead across the border," Senator Muhammad Javed Abbasi of the Pakistan Muslim League told the Senate.
Other senators also demanded that Prime Minister Imran Khan and the government present a detailed report about the incident.
Minister of State for Interior Shehryar Afridi told a press conference in Peshawar Thursday that the killers of Tahir Dawar will be brought to justice soon.
"We will give a detailed report to the prime minister. The killers will be brought to justice wherever they are," he said.