PESHAWAR -- A senior Khyber Pakhtunkhwa (KP) police officer who was kidnapped in Islamabad last month was found dead in Afghanistan, local media reported Monday (November 13).
Peshawar Superintendent of Police (SP) Tahir Khan Dawar was kidnapped October 26 in Islamabad, where he had gone on short leave.
Security forces were working to ensure his safe return, but local media Monday reported that he had been killed by terrorists in Afghanistan.
No official comment
Pakistani officials said they were working to verify the reports.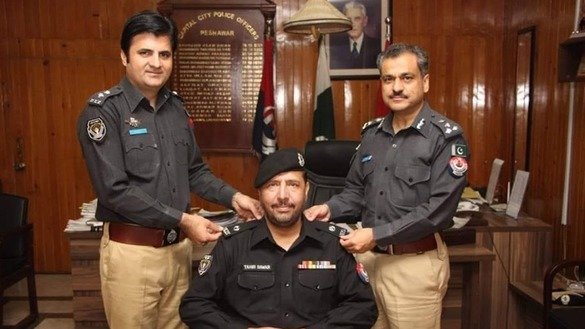 "We can't comment on it so far," KP Inspector General of Police Salahuddin Khan Mehsud told Pakistan Forward. "We are in contact with Afghanistan through concerned departments."
"There is no confirmation so far," Waqar Ahmad, spokesperson for KP Police, told Pakistan Forward. "We are verifying it through different sources."
"This is a matter of national security and of someone's life and cannot be discussed on an open forum," Minister for State for Interior Shehryar Khan Afridi said according to Geo News.
However, Khyber News tweeted that the Afghan government has transferred Dawar's body to Pakistani authorities at the Torkham border crossing and that they will transport it to Peshawar.
A handwritten note
Reportedly a handwritten Pashtu note was found with Dawar's mutilated body.
The note, according to reports, said Tahir Dawar had paid the price for "arresting and killing many of our men" and cited "Islamic State of Iraq and Syria" (ISIS)'s Khorasan branch.
However, ISIS has not formally claimed responsibility.
Luck ran out
Dawar survived several terrorist attacks, including two suicide attacks in Bannu District, KP, in which he sustained injuries.
Those who knew him are wrestling with the possible news.
The body in a picture on social media was Dawar's, Samiullah Dawar, leader of the Waziristan Qaumi Mahaz community organisation, told Voice of America.
"The KP Police has offered matchless sacrifices against terrorism," KP Assembly member and Awami National Party leader Sardar Hussain Babak said in a statement condemning, but not confirming, Dawar's murder.
"Shocked to hear that the abducted SP Tahir Dawar has been murdered," tweeted Mohsin Dawar, a National Assembly member from North Waziristan. "Explaining this in the same old 'good' and 'bad' Taliban drama will not work anymore."
"We demand answers," he said.