PESHAWAR -- Residents of tribal districts are urging the federal government to open more health facilities to help combat alarming infant mortality rates after authorities installed a maternity ward at a hospital in Bajaur District in August, equipped with a comprehensive emergency obstetric care facility.
Pakistan has the world's worst infant mortality rate, according to a United Nations Children's Fund (UNICEF) report on child mortality published in February.
In the country with the highest birthrate in South Asia, newborns face a 1-in-22 chance of dying in their first month, revealed the UNICEF report.
Dr. Ghazna Khalid, an Islamabad-based psychiatrist, neurologist and human rights activist, inaugurated the ward at the District Headquarters Hospital (DHQ) Bajaur, based in Khar, as part of a joint civil-military venture with Corps Commander Peshawar Lt. Gen. Ahmed Nazir Butt.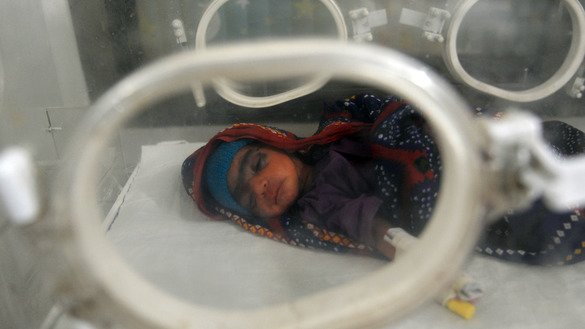 "Tribal districts are the worst in the provision of healthcare facilities as infant mortality rates... are estimated to be 87 deaths per 1,000 new births for both sexes," Khalid told Pakistan Forward. "Males face a higher mortality rate of 95 deaths per 1,000 live births, compared to females with 72 deaths per 1,000 live births."
More than 80% of newborn deaths can be prevented with access to well-trained midwives, along with proven solutions such clean water, disinfectants, breastfeeding within the first hour, skin-to-skin contact and good nutrition, she said, citing the UNICEF report.
Improving training, awareness
Apart from the absence of available infrastructure, a shortage of trained staff and a lack of awareness among young mothers are some of the reasons behind most of the newborn deaths, argued Khalid.
Specialists will be visiting the new facility in Bajaur to train the staff, she said.
Health professionals previously did not come to the area because of security risks, explained Khalid. Now, however, security forces have cleared the area and specialists voluntarily come to Bajaur to help the health teams and their patients.
Bajaur has long been a key hotbed of various militant groups, including the Tehreek-e-Taliban Pakistan (TTP), and has seen several military operations conducted by Pakistan's army.
Authorities will replicate such centres and extend them to the rest of the tribal districts to raise maximum awareness about healthy childbirths, she said.
The hospital in Khar, which serves an estimated 1.2 million residents of Bajaur, has no gynaecologist even though about 5,000 children are born there each year, according to Mohammad Saleem, the medical superintendent of DHQ Hospital.
"The death rate among childbirths [in Bajaur] is about 25%, which is alarming," he told Pakistan Forward.
"The reason for the high infant death rate is a lack of facilities," he said. "Although four lady health workers and an MBBS [bachelor of medicine, bachelor of surgery degree] lady doctor is available, there is no gynaecologist here."
The emergency obstetric care facility will help curtail avoidable newborn deaths, he said.
The obstetric unit and timely availability of life-saving drugs will help reduce infant mortality, Dr. Savera Khan, the female medical officer at DHQ Hospital, agreed.
"The extension of facilities at the BHUs [Basic Health Units] and RHCs [Regional Health Units] will also help decrease infant mortality in the tribal areas," she told Pakistan Forward.
A milestone in health care
Residents of Bajaur are hoping the initiative at DHQ Hospital in Khar will help confront the serious problem of infant mortality.
"The lack of a gynaecologist even at DHQ Hospital is worrisome, and we have a dire need for trained health workers at all levels," Rahmanullah, a private school teacher in Khar who goes by one name, told Pakistan Forward.
He expressed the hope that the new awareness unit set up at the DHQ hospital to train staff will play a major role in controlling infant mortality and saving mothers.
Mothers and newborns die most of the time because of the distance to health facilities and because of poor transport networks, Mohammad Saleem, a Bajaur-based journalist, told Pakistan Forward.
Paramedics often rush patients to Khar and then to Dir and Peshawar, he said, referring to two nearby cities in Khyber Pakhtunkhwa (KP) Province.
Society has an urgent need to educate and raise awareness among mothers and parents to overcome infant mortality, Akhunzada Chattan, a former member of the National Assembly from Bajaur, told Pakistan Forward.
It's important to upgrade the health facilities in remote areas to lessen the burden on the major hospitals now that peace has returned to the area, he said.
Today, Khalid, the physician who inaugurated the centre at the DHQ hospital in August, says it is functioning well in controlling infant mortality and raising awareness.
"The centre is working effectively," she told Pakistan Forward November 7, adding that specialists are training the hospital and BHU staff and that the awareness sessions for parents are bearing fruit.
"Infant mortality will be effectively addressed now that the parents are becoming increasingly responsive," she added.