PESHAWAR -- The National Counter Terrorism Authority (NACTA) and Higher Education Commission (HEC) have joined hands for a sustained and effective partnership to fight extremism and terrorism in the country, especially in higher education.
Inking a memorandum of understanding (MoU) October 25 in Islamabad, Khalid Dad Lak, NACTA's national co-ordinator, and Lt. Gen. (ret.) Mohammad Asghar, HEC's executive director, signed the document.
"According to the agreement, NACTA and the HEC will undertake advanced research and collaborate on existing research in counter-terrorism and extremism," Asghar told journalists at the ceremony.
Research, raising awareness
Authorities will focus on on-campus extremism, Asghar said, adding that they will engage faculty members and students at various Pakistani universities to conduct the research.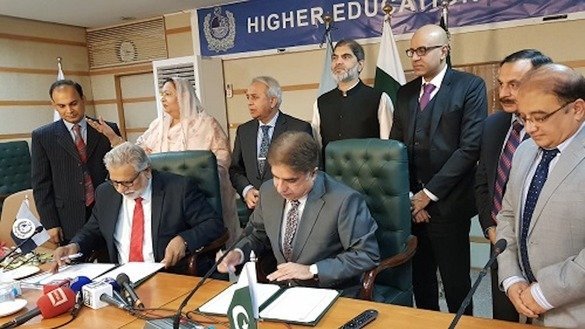 The two organisations will also explore ways to bring madrassa and university students closer together in the fight against extremism and terrorism, he continued.
Besides research, the organisations will launch nationwide awareness campaigns in universities to inform students of ways to better understand the sinister motives behind extremist ideologies, Asghar explained.
The planned programmes will include seminars, workshops, discussions, essay competitions, debates, sports and cultural events at different universities, he said, adding that the universities will also use their FM radio stations to spread the message.
"Universities create the society of tomorrow; therefore, we are focusing on university students," Tariq Banuri, chairman of the HEC, told Pakistan Forward.
"If we want to create a decent and a civilised society, we have to start from the universities to play a part in defeating terrorism," he added.
"The main goal behind NACTA and the HEC's collaboration is to enhance prevention of extremism by providing education on counter-extremism and counter-terrorism," Lak, NACTA's national co-ordinator, told Pakistan Forward.
"This will help in promoting research in public sector universities and in increasing students' understanding," he said.
Terrorists with diplomas
Recent acts of terrorism in Pakistan have alarmed observers because of the involvement of highly educated youth, Lak said.
Out of 500 militants in jails in Sindh Province, 64 hold a master's and 70 have a bachelor's degree, the VOA News reported last year, quoting the provincial Counter Terrorism Department.
In 2017, Naureen Leghari, a female medical student in Sindh, confessed to planning to become an "Islamic State of Iraq and Syria" (ISIS) suicide bomber in Pakistan.
The collaboration between the HEC and NACTA "is welcome because through research we can find the underlying factors behind radicalism in Pakistan and among students," Prof. Zafar Khan, a sociologist at the University of Peshawar and a specialist on de-radicalisation in Khyber Pakhtunkhwa, told Pakistan Forward.
Force alone will not obliterate terrorism, he said, adding that the involvement of university students in such violence reflects their vulnerability to extremist ideology.
Zafar said he is working on a project to review the existing curriculum for Pakistani universities and to recommend removing hate material from the textbooks.