PESHAWAR -- Nearly a million children have already been vaccinated against measles in Khyber Pakhtunkhwa (KP) alone as part of a countrywide campaign that began Monday (October 15).
The province has vaccinated 900,000 children so far, and the target is 400,000 per day, KP Director General of Health Services Dr. Ayub Roz told Pakistan Forward Wednesday (October 17).
The public response to the campaign has been very good, he said.
"The 12-day nationwide campaign will cover all children between the age of nine months and five years," said Dr. Asad Hafeez, a director-general at the Ministry of National Health Services Regulations and Co-ordination.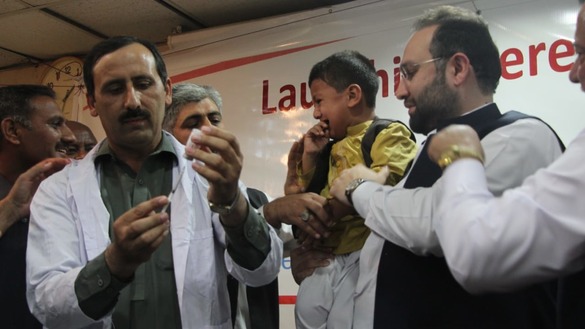 "From January to September 2018, more than 220 children below the age of five died of measles in Pakistan," he told Pakistan Forward.
"Measles has been one of the leading causes of death among young children globally, and most cases are observed in developing countries, including Pakistan," he said.
"More than 400,000 vaccinators will provide anti-measles vaccines to 6 million of the targeted population in all provinces," he added. "We have more than 8,000 fixed centres in hospitals where children can be inoculated free of cost."
Khyber Pakhtunkhwa (KP) Health Minister Hisham Inamullah Khan kicked off the campaign at the Lady Reading Hospital in Peshawar, and pledged to enhance vaccination for all nine childhood ailments throughout the country.
A worrying trend
"Based on analysis of the epidemiological surveys, there has been an upward trend in measles cases nationwide, as we recorded 10,347 cases in 2016 and 11,902 in 2017, as well as 11,564 as of September 2018. Most measles cases (76%) affected those under five years old," Director General Roz told Pakistan Forward.
In February, the World Health Organisation (WHO) reported 6,494 cases of measles in 2017 in KP alone -- compared to 2,845 in 2016.
"About 98 deaths in KP have been reported from measles-related complications this year," according to Roz.
"The KP health department has already enlisted the support of religious scholars to make announcements from mosques and persuade parents to bring their children in for vaccination," he added.
GAVI, the global vaccine alliance, is providing financial aid to the federal government's campaign, Roz said.
A collective effort
Steering committees have been formed under the four provincial secretaries of health to oversee the progress of the campaign, Federal Health Minister Amir Kiyani told Pakistan Forward.
Technical committees and sub-committees are meanwhile working under the concerned provincial directors of general health services to make the planned vaccination drive a success, he said.
"We have held district health management workshops to develop micro-plans for the measles campaign at the union council level," Kiyani said.
Mosques have started a grassroots social mobilisation campaign to promote vaccination, Maulana Rafiq Ahmed, a prayer leader in Mardan District, told Pakistan Forward.
"We hope the public response will be positive," he said. "The parents should vaccinate their children to safeguard them against diseases. It is the Islamic duty of society to ensure that children stay safe from illness."
Maulana Ikramullah, a Peshawar-based religious scholar, told Pakistan Forward he is a staunch supporter of vaccinations.
"In the past, Taliban militants have harmed the children when they opposed polio vaccination in Swat and tribal districts," he said, adding that Pakistanis "are no longer receptive to the Taliban and want to immunise their sons and daughters".