QUETTA -- Police in Quetta are debunking a claim of responsibility by "Islamic State of Iraq and Syria" (ISIS).
The group said it fatally shot three Sufis -- devotees of mystical Islamic beliefs -- in Quetta Sunday (September 30).
In reality, the attack wounded three men, none fatally, say police.
ISIS often makes spurious claims of responsibility or exaggerates casualties after attacks it does carry out to overstate the group's importance.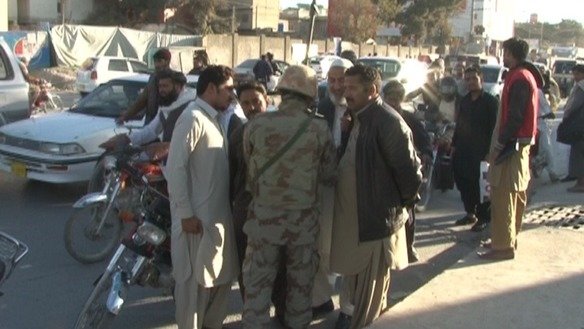 "On Sunday, unknown armed militants targeted three men at the entrance area of Hazarganji, outskirts of Quetta. All three received injuries; however, they are out of danger," Deputy Superintendent of Police Shalkot Abdul Salaam told Pakistan Forward.
"The wounded persons were targeted in a truck, and they were identified as Muhammad Amin, Muhammad Sadiq and as Murhab Khan. All three reside in the Sohbatpur area of Balochistan," he said.
Phony claim
It is false "that three persons were killed, and it is premature [to say why they] were targeted," said Salaam, adding that "our investigation team rushed to the scene and collected the available evidence."
"Shalkot is a restive area of Quetta, and in the past militants have targeted several other people," he said, adding that "security personnel were also targeted in bombings [there]in the past".
"We are investigating this particular incident from all angles... at this moment the three patients are under medical treatment at the Bolan Medical Complex Hospital [in Quetta]," said Salaam.
"Our personnel who were patrolling near the Mianghundi area of Shalkot told us that armed men opened fire on a truck. Security personnel tried their best to chase the attackers but... they fled from the scene," Ghulam Nabi, a security official from Hazarganji, told Pakistan Forward.
"Our rapid response unit officials also recorded statements of some eyewitnesses on the spot [who said] that four attackers on motorcycles ambushed the truck. Eyewitnesses further said that the attack was very [sudden] -- therefore, they didn't see the faces of the assailants", he said.
"I can confirm that the claim made by ISIS is false and that no one has been killed here in any such incident that was claimed by ISIS via Amaq," he added, referring to the terrorist group's propaganda outlet.
In July, the terrorist group carried out a deadly attack in Quetta, killing almost 150 Pakistanis at an election rally.
ISIS also claimed responsibility for an attack on a Quetta church last December that killed nine.