PESHAWAR -- Khyber Pakhtunkhwa (KP) authorities have established a special police post at Industrial Estate Peshawar meant to protect commerce and trade in the city.
"The provision of security for businesses is a primary duty of the police, and the establishment of the post in Industrial Estate Peshawar is a step towards fulfilment of this responsibility," Capital City Police Officer Peshawar Qazi Jamil ur Rehman said during the opening ceremony September 14.
Boosting security, creating jobs
"The establishment of the special post is the result of joint efforts by businesses and KP Police, reflecting ... strong co-operation between the two important segments of society," Zahidullah Shinwari, president of the Sarhad Chamber of Commerce and Industry, told Pakistan Forward.
The land for the post came from the KP Economic Zones Development and Management Co., while the Industrialists Association Peshawar (IAP) contributed to the interior furnishing, he said.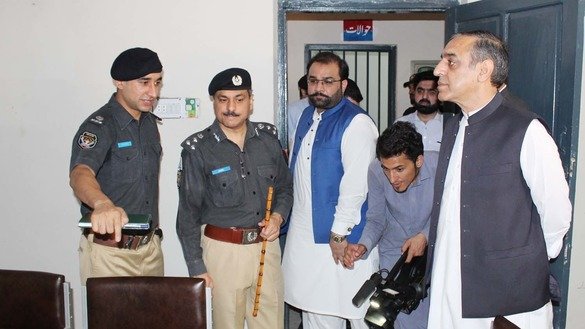 Improved security at Industrial Estate Peshawar has been a long-time demand, he said.
Business owners often felt insecure because of the proximity of the tribal belt, especially when they were carrying out cash transactions, Shinwari said.
Business owners also feared kidnapping for ransom, which not only caused capital flight from the city but deterred outsiders hoping to invest and start new businesses.
The establishment of the police post will improve the business environment and help to create new job opportunities for youth and skilled labourers, he said.
Some 118 factories operate in Industrial Estate Peshawar, providing about 60,000 direct job opportunities and 170,000 indirect jobs, according to Shinwari.
"More than 100 [other industrial] units [at the estate] are ailing or have closed down, mainly because of the capital flight caused by businesses' security concerns," he said.
Encouraging the return of businesses
"Security is one of the major concerns of the business community in KP," IAP President Zarak Khan Khattak told Pakistan Forward.
Twenty-one police officers guard the post around the clock, he said. A sub-inspector is in charge of the post, which has a new vehicle and two motorcycles for regular patrols in the area.
IAP members all want their employees to register with police to prevent the entry of any criminals disguised as workers into Peshawar factories, Khattak said.
"The business community of KP and of Peshawar has suffered greatly due to militancy, especially between 2008-2013, causing major capital flight from the province", he said.
"An improved security environment likely will persuade departed business owners to return to Peshawar, as well as encourage outsiders who wish to open businesses in KP", he said.
"The decade-long wave of militancy and the on-going menace of terrorism have left an incalculable impact on Pakistan's economy in general and on KP in particular", said Ehtesham Haleem, former president of the Peshawar Chamber of Small Traders and Industries.
"Without the support and co-operation of our security forces, the business community cannot continue doing business and strive for the prosperity of the country and nation," he told Pakistan Forward.