QUETTA -- Iranian Foreign Minister Javad Zarif's latest visit to Pakistan was part of a failed effort to include Islamabad in Tehran's anti-US foreign policy and regional agenda, say analysts and officials.
In his recent visit to Islamabad on August 30, Zarif conferred with newly elected Prime Minister Imran Khan, Foreign Minister Shah Mehmood Qureshi, Chief of Army Staff Gen. Qamar Javed Bajwa and other key government officials.
Since Khan's election as prime minister, Tehran has stepped up its efforts to ingratiate itself with Islamabad. In a letter addressed to Khan, Iranian President Hassan Rouhani exp­r­essed Tehran's readiness to exp­and co-operation with Islamabad, Dawn reported.
This year, Iran marked Pakistan's 72nd Independence Day on August 14 with congratulatory messages on billboards along its highways and on electronic screens in public transportation.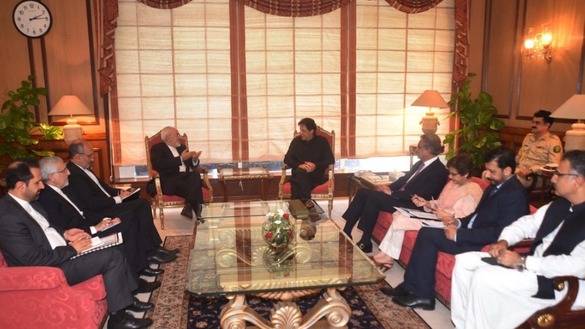 "The ties between Pakistan and neighbouring countries play an important role for regional peace and stability, but we believe in our own national strategic interests," Ehtasham Sadiq, an Islamabad-based senior defence official, told Pakistan Forward.
"Though we [Pakistan] are on good diplomatic terms with Iran, we're not going to support every Iranian move in pursuance of such relations," he said.
"Iran diplomatically tried its best to describe ... Zarif's recent visit to Pakistan as routine, but, in reality ... Iran openly sought Pakistani support for its anti-US stance," Sadiq said.
An attempt to expand Iranian influence
Iran's efforts at reconciliation are solely in Tehran's interest, according to Sadiq and other officials.
"Iran is now in a major quandary due to its controversial role in Asia, so Iranian leaders are desperately trying to show the world that their neighbours -- including Pakistan -- will stay... as potential allies," said Sadiq.
"Iran is working to enhance its influence in the bordering areas of Pakistan linked with Balochistan," he added.
Reports have stated that Iran could use Shia groups in different provinces in Pakistan to gather Pakistani support for a future move against US economic sanctions, a Rawalpindi-based senior intelligence official told Pakistan Forward on the condition of anonymity.
"Iran is sponsoring several organisations in Pakistan, and some Shia scholars and leaders who are running those organisations are largely on our watchlist," said the source. "We will never compromise our national security."
Pakistan's newly elected government is reviewing the country's foreign policy, he said, adding that "the security strategy of Pakistan is nationally oriented and very comprehensive, so no one can use our soil for someone else's cause."
"Pakistani security agencies are playing an effective role in securing our part of the border with Iran... no attempt at influence or any other interference [from Iran] can succeed in Pakistan," he said.
Iran needs Pakistan
"The Iranian involvement in Pakistan's internal affairs, its role in Balochistan's unrest and its support for other anti-Pakistan elements make it an unreliable partner and neighbour for Pakistan," Dr. Talat Shabbir, an Islamabad-based senior foreign affairs analyst, told Pakistan Forward.
In present circumstances, Iran must revisit its foreign policy by assuring that in the future it will play a less controversial role than it does now, he said. "In my opinion, as Iran has its own interests in Asia and the Gulf states, the Pakistani government, too, should do what is best for [itself]," said Shabbir.
"Iranian interference in neighbouring countries bolsters its negative role in the region, and Pakistan has always opposed such interference," added Shabbir.
"Some foreign groups that are using Afghan soil for anti-Pakistan activities have strong ties with Iran -- and such ties could also serve as a major irritant in Pakistan-Iran ties," he said.
"We must not ignore that Iran needs Pakistani support because of [Pakistan's] strategic geographic position, and it has a deep interest in the economic potential of Afghanistan not only as a market for its energy but also as a key transit route for the sale of its energy [resources] to the Central Asian countries and to China," Shabbir continued.