PESHAWAR -- As Pakistan prepares to observe Ashura, security has been stepped up across the country to ensure a peaceful observance.
This year, Ashura, the 10th day of the holy month of Muharram, will be observed on September Thursday-Friday (September 20-21).
"A total of 460 processions will take place from 266 imambargahs in KP, while 2,643 Ashura gatherings will occur," Waqar Ahmad, spokesman for the KP Police, told Pakistan Forward.
As part of the security plans, about 32,700 police officers will perform security duty in KP during Muharram, Ahmad said. "Apart from KP Police, contingents of Frontier Constabulary, Frontier Reserve Force, Elite Force and Quick Response Force are part of the security plan."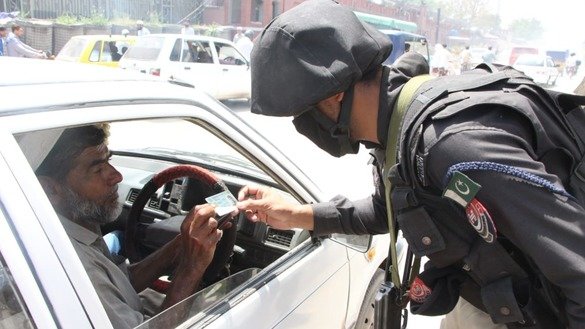 "The routes of all the processions are swept by the Bomb Disposal Unit to prevent anyone from planting explosives," Ahmad said.
Stepped up security in Peshawar
In Peshawar, KP's capital, police have set up a command post in Kohati Gate and have deployed thousands of officers.
The KP Police conferred "with religious scholars, elders, traders and the local population ahead of Muharram to ensure foolproof security arrangements with their support", Qazi Jamil ur Rehman, Capital City Police Officer Peshawar, told Pakistan Forward.
They also "strengthened entry and exit points to and from Peshawar and accelerated search and strike operations in the city", he said.
Peshawar merchants are doing their part.
"Traders in Peshawar's inner city close their markets from the 6th of Muharram [September 16 (Sunday)] so the police can close the routes of the processions and take security measures," Abdul Majid, a trader in the city, told Pakistan Forward.
No one from outside may enter the inner city during the four days preceding Ashura as the security arrangements proceed, he said.
"Ambulances, medical technicians, fire vehicles and other facilities will go on alert around the clock during Muharram, said Bilal Ahmad Faizi, spokesman for Rescue 1122, an emergency rescue service.
"All Rescue 1122 workers will stay alert while those on leave have been recalled for Muharram duty," he told Pakistan Forward.
Enhanced security measures nationwide
As part of the preparation ahead of the Ashura observance, police have increased snap checks and search operations across Pakistan.
"There are 1,996 imambargahs in Sindh Province, of which 356 are in Karachi and 590 in Hyderabad," Ameer Shaikh, Karachi additional inspector general of police, told a security meeting on September 10 chaired by Sindh Chief Minister Murad Ali Shah.
A total of 3,513 processions will take place across the [Sindh] province for which authorities have chalked out a security plan, including the deployment of 69,500 police officers, Shaikh said.
Authorities in Punjab Province are also stepping up security.
"The Punjab government is determined to provide complete security to Muharram processions and majalis [events]," reads a statement released on September 10 by the Punjab government following a meeting between Punjab Minister for Law and Parliamentary Affairs Muhammad Basharat Raja and a delegation of religious scholars.
In Balochistan Province, the Frontier Corps discovered 21 improvised explosive devices (IEDs) weighing a total of 235kg in Zhob District, thus foiling "a major terrorist bid," according to a September 10 statement by Inter-Services Public Relations (ISPR).
The "IEDs were to be used to target the Muharram processions," ISPR said.