PESHAWAR -- Pakistani women are making surprising inroads in mountaineering, an adventure sport long dominated by men, by scaling lofty peaks and transcending social barriers.
The trend-setter who introduced and encouraged Pakistani women to enter the sport of mountain climbing is Samina Baig, the first Pakistani woman to climb the world's tallest mountain, Mt. Everest. She summited in 2013.
Baig is also the only Pakistani woman to have scaled seven summits in seven continents, including Antarctica. She nailed down the seven summits in just eight months.
Baig said her brother inspired and encouraged her to climb.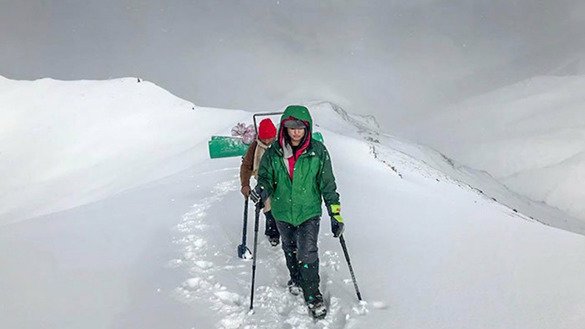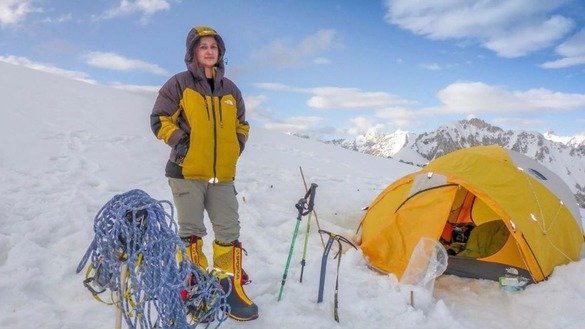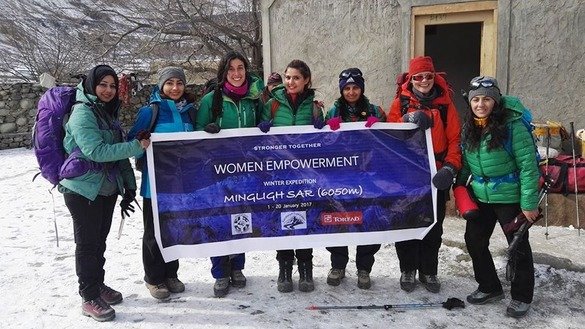 "Mountain climbing has been my passion from childhood since I belong to Shimshal village of Hunza Valley, whose residents are mostly climbers and porters for foreign mountaineers," she told Pakistan Forward.
"I was inspired by my elder brother Mirza Ali, who used to recount adventures he experienced climbing various peaks with foreign climbers," she said.
"Samina's role is that of a torchbearer whose achievements encouraged female mountain climbing enthusiasts of Pakistan to enter the field and start scaling high peaks besides participating in other winter sports, including skiing, rock climbing and mountain trekking," Rehmatullah, vice president of the Alpine Club of Pakistan, told Pakistan Forward.
Before 2013, Pakistani women were not seen in the sport of mountaineering, but Baig's courage in climbing Everest encouraged others to come forward.
"Women from across the country and even from abroad are showing interest and are participating in trekking and climbing expeditions on various peaks in the region [Himalayas]," Rehmatullah said.
Growing interest in trekking
On July 31, a group of six Pakistani women climbed 5,300-metre Shifkteen Sar peak in Hunza, becoming the first female team to reach the summit, Geo News reported.
The team, all students of Shimshal Mountaineering School, climbed the peak from its north ridge.
On July 29, three Pakistani teens earned a world record by scaling the 6,080-metre Mt. Manglesser in the Karakoram mountain range.
Amina Hanif, 13, Maryam Bashir 14, and Siddiqa Batool, 15, come from the Hushey Valley of Gilgit-Baltistan and are granddaughters of mountaineer Little Karim, who accompanied them on the trek. The group started the trek July 16 and reached the summit July 24. They set the record for being the youngest to climb the mountain.
Little Karim, a climber with a global reputation, said he hoped the expedition would encourage more women from Gilgit-Baltistan to take interest in mountaineering.
An expensive adventure
"Official patronage is needed to attract and involve youngsters in this healthy and creative activity [adventure sports]," said Uzma Yousaf, the first Pakistani woman to scale the 7,027-metre Mt. Spantik (Golden Peak) by herself. She did so in 2017.
Financial and social barriers prevented her from fulfilling her dreams earlier, said Yousaf, a Peshawar native who lives in Islamabad with her husband and two teenaged sons.
But with support from her husband, Yousaf Akhtar, she climbed the 6,050-metre Mt. Mingling Sar in Hunza in 2015 by herself.
Yousaf now plans to climb one of the five 8,000-metre peaks in Pakistan, giving her a choice of K2 (8,611 metres), Nanga Parbat (8,126 metres), Gasherbrum I (8,080 metres), Broad Peak (8,051 metres) and Gasherbrum II (8,035 metres).
She is seeking financial support or sponsorship from mountaineering clubs because the expedition is expected to cost about Rs. 3.5 million ($28,000).
Inspiring Pakistani youth, women
Climbers have to raise money "to travel, purchase equipment and provide food and other necessities during trekking", said Mehbood Ali, another of Baig's brothers, who directs the Pakistan Youth Outreach Foundation, a nonprofit organisation for Pakistani youth interested in climbing.
"The Foundation and other similar institutions are regularly arranging camps and providing training for interested climbers," he told Pakistan Forward.
"The inhabitants of mountainous regions, including Shimshal, have a natural ability to climb due to the environment they have lived in," said Imran Siach, a Chitral tourist operator, trekker and climber. "We can produce dozens of Samina Baigs in our country by tapping this potential."
The Gilgit-Baltistan region has welcomed a large number of woman climbing enthusiasts who come from cities across Pakistan, including Lahore, Karachi, Peshawar and Islamabad, said Saich, a member of the nonprofit Adventure Foundation Pakistan.
"This is a good sign -- Pakistani women are engaging more in adventure sports," he said. "Now the government needs to concentrate on this sector."