PESHAWAR -- The brutal killing of a transgender woman in Khyber Pakhtunkhwa (KP) has highlighted the intolerance and growing violence and persecution against transgender people in Pakistan.
Nazo, a transgender woman from Peshawar, was murdered August 16 after she performed at a dance party in the city. Professional dancing is one of the few careers open to transgender Pakistanis.
A day later, the local police arrested her suspected killer as well as an accomplice.
Nazo was the 62nd transgender person slain in KP since 2015, according to TransAction Pakistan, a Peshawar-based activist group supporting the rights of transgender people.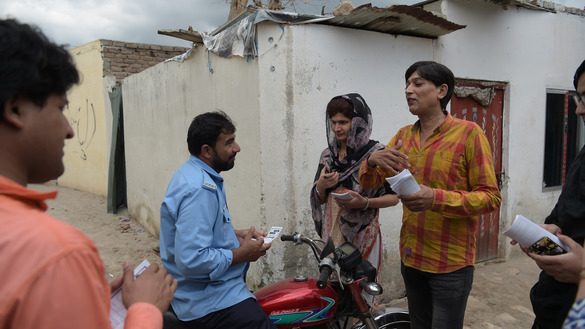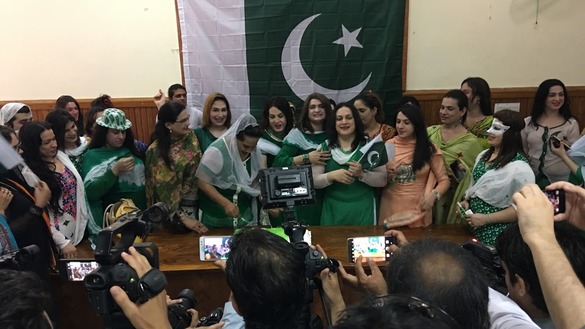 Transgender people often endure harassment at parties where they are hired to dance, said Shabana, a transgender woman from Mardan.
"[Party-goers] watch us dance but don't respect us," she told Pakistan Forward, adding that criminals often rob transgender people returning home from functions late at night and sometimes kill them when they resist.
A marginalised community
The families of most transgender Pakistanis have ostracised them, said Shaheen Begun, a transgender woman from Swat Valley.
"Nazo's remains were buried by the Edhi Foundation [the largest social welfare group in Pakistan] when her family refused to take the body," she told Pakistan Forward. "This happens with all our people, and our dilemma is perpetual."
"We are utterly disappointed by the prevalent conditions we face in society," she said.
"We live in a state of violence as there is no support from the government or society," Farzana, a transgender woman and rights activist, told Pakistan Forward.
Nobody helps transgender Pakistanis in times of trouble, she said. "We face threats everywhere. [Party organisers] invite us to parties but beat, blackmail and rob us."
Zar Ali Khan of the Peshawar-based Tribal NGOs Consortium expressed dismay over the various forms of discrimination that transgender people face in Pakistan.
Transgender individuals often do not receive proper treatment at hospitals when they visit and then die of curable illnesses, he said.
"They should be given free health services, including accessibility to HIV/AIDS medication," he said.
Pakistan urgently needs to eliminate the existing barriers to transgender persons' well-being and to launch welfare programmes for them, he said.
Hope for the future
Despite the murder of Nazo, Qamar Nasim, a programme officer at the Peshawar-based Blue Veins women's health advocacy group and founder of TransAction, said he was hopeful about the KP government's new measures to protect transgender persons.
"KP has drafted the Domestic Violence (Prevention and Protection) Bill, which also covers the transgender community, but it is devoid of any provision for rehabilitation, shelter, psychological and social support or legal aid," he told Pakistan Forward.
The bill awaits passage by the KP Assembly.
So far this year, Pakistani authorities have recorded about 480 cases of both domestic violence and outsider violence against transgender persons, Nasim said.
The Punjab and KP governments have formulated a human rights policy that protects transgender people, though all districts in those provinces still receive complaints about infringements of transgender residents' rights, he said.
One shortcoming is the absence of national-level efforts to end violence against transgender persons.
The National Assembly in May passed the proposed Transgender Persons (Protection of Rights) Act 2018, said Nasim, adding that it still requires Senate approval to become law.
"The law will entitle transgender people to obtain driving licences and passports, inherit property, change their gender, seek employment, vote and gain access to health care, etc.," he said.
Pakistan has about 3,000 transgender households with about 10,000 members, he said. KP alone has about 900 transgender households.
Civic support
Musa Khan, an activist with TransAction, said the group seeks to educate transgender people about their legal rights and encourage them to raise their voices.
It has been a daunting challenge, however, in a society that largely looks down on transgender citizens.
"Transgender persons, called hijra or khwaja sara in the local language, are afraid to speak out against those who harass them because of a lack of social acceptability and of protection," Khan told Pakistan Forward.
Transgender Pakistanis want society to stop treating them as outcasts and to respect them as human beings, Khan said, adding that they are often "forced into prostitution or beaten and often start begging in bazaars".
Motivation among transgender persons to seek their rights is a welcome development and brings hope for a better future, said Habibur Rehman, a former police officer from Swabi.
"There is awareness of [transgender people's] rights, and [officials are] planning laws to protect that community," he told Pakistan Forward, adding that cultural, religious and other barriers still deny them dignity and potential opportunities.
Javeria, a transgender woman in Peshawar, expressed gratitude to the media and to non-governmental organisations for highlighting the plight of transgender people.
Such efforts will sensitise society to treat the community with respect, she said.
"The contempt we face will end only when we become united," she told Pakistan Forward. "Our community should be allowed to start businesses ... so we can earn livelihoods with dignity."