PESHAWAR -- Police from Khyber Pakhtunkhwa (KP) have sacked more than 800 of their own officers since 2014 for corruption and abuse of power.
The number of KP Police officers punished in some way for corruption and abuse of power in that period, including those who lost their jobs, totals about 6,000, Capital City Police Officer (CCPO) Peshawar Qazi Jamil ur Rehman told Pakistan Forward in an exclusive interview. The bulk of these actions have taken place in KP's capital, Peshawar.
"All the officers, especially the station house officers (SHOs), have been clearly informed that [we will take] the strictest actions if they are found involved in corruption or misuse of power," said Rehman, who became CCPO April 19.
He added that he plans to appoint a chief of internal affairs, known as a moharrar, at each police station by conducting a competitive merit exam.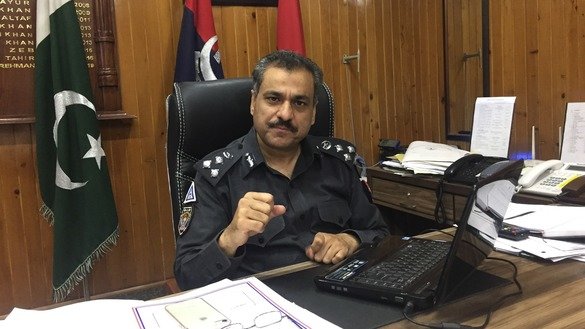 "In the next phase, we plan to appoint SHOs through these kind of exams to provide an opportunity to those who think they are ignored despite their talents," he added.
His plans are to further improve the intelligence and investigative capabilities of the Peshawar police, he explained, citing the need to investigate cases properly and to prevent attacks.
"We want to provide relief to [civilians] by... providing them easy access to any police official, involving them in alternative dispute resolution mechanisms and ensuring they're respected at check-posts and police stations," said Rehman.
Peshawar 'secure'
Peshawar for years was a hotbed for militant and extremist activities and formerly provided hospitable terrain to various militant and jihadist groups, including Tehreek-e-Taliban Pakistan (TTP).
"We have [Peshawar] secured from all sides and from any terrorist attack," Rehman told Pakistan Forward.
Peshawar has witnessed more terrorist attacks than has any other Pakistani city during the past decade. Ahead of the July 25 general elections, a suicide bomber targeted a rally of the secular Awami National Party (ANP) in Peshawar July 10, killing more than 20 Pakistanis, including a senior ANP party leader who was running for a seat in the National Assembly.
"Operations in the rural, urban and suburban areas have helped police eliminate the network and infrastructure of the militants, which has reduced the threats to the general public from within the city," according to Rehman.
Security forces have evicted TTP, Lashkar-e-Islam and other militant groups from Peshawar and other parts of KP during the past few years, he added. In Peshawar, KP Police have arrested or killed a number of "Islamic State of Iraq and Syria" (ISIS) members in the past few months, said Rehman.
"A number of intelligence-based operations within the city have helped police arrest and kill those facilitating, sheltering and supporting the terrorists coming from the outside," said Rehman.
Securing the settled areas
Additionally, KP Police have constructed bomb-proof check-posts, mainly in areas that border the tribal belt, to ward off terrorist attacks.
"Most of the attacks on Peshawar come from the tribal areas," said Rehman. "We have built 31 bomb-proof posts in a crescent along the boundary with Khyber, Dara Adamkhel and Mohmand."