PESHAWAR -- Independence Day celebrations for Pakistan and Afghanistan this year -- August 14 and 19, respectively -- were marked by joint celebrations and displays of brotherly love.
Scenes at the Torkham border crossing were festive for both events as security forces from both sides of the border exchanged greetings, flowers and sweets.
On the directives of their commanders, Pakistani border guards congratulated their counterparts on August 19, while Afghan children wearing traditional dresses and carrying Afghan flags sang and danced to national songs.
Similar festivities were observed at the border on August 14, when Afghan security officials gifted flowers and dry fruits to their Pakistani counterparts.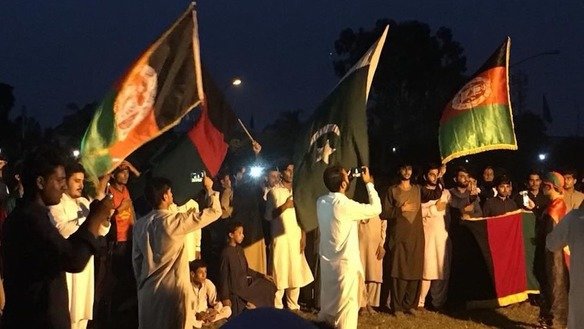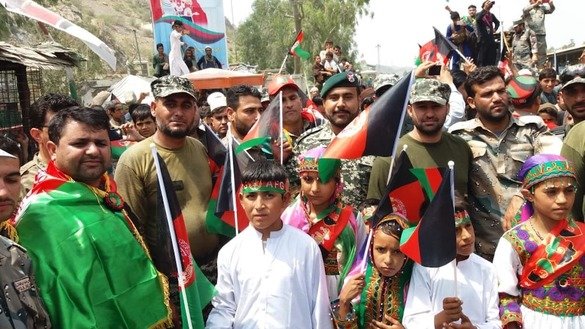 In Peshawar, Pakistani youth joined Afghans celebrating in the streets on August 19, chanting slogans of "Long live Pakistan; long live Afghanistan".
Just days before, Afghan youth hoisted Afghan and Pakistani flags and danced to Pashtu songs as Pakistan celebrated its Independence Day on August 14.
Bridging the gap between neighbours
Residents on both sides of the border are optimistic that such displays of goodwill will bridge the gap between the two nations and bring them closer together.
"Both Pakistanis and Afghans are closely bonded historically and religiously, and both nations are feeling the pain of the other," Hikmat Safi, spokesperson for Afghan Chief Executive Abdullah Abdullah, told Pakistan Forward.
"Such celebrations are welcome, but it would have been a more joyous occasion if the recent incidents in Ghazni and Kabul had not occurred," he said, referring to the Taliban's days-long rampage in in Ghazni Province, Afghanistan, and to a deadly "Islamic State of Iraq and Syria" (ISIS) attack on an education centre in Kabul where students were studying for college entrance exams.
While some tensions exist between Kabul and Islamabad on the political level, he said, the joint celebrations by Afghans and Pakistanis in Peshawar showed that politics cannot affect the true bonds of Pashtuns.
"Our history and sacrifices won't allow us to remain apart," he said. "We are of one blood and love each other."
Afghan-born businessman Haji Pervaiz, the owner of a superstore in Peshawar, pointed to Pakistani and Afghan flags flying on the Bab-e-Peshawar Bridge, famously known as the "selfie bridge".
"I am so happy to see both Afghans and Pakistanis celebrating together," he told Pakistan Forward.
"Apart from political verbal brawls at the government level, the residents of both countries are closely bonded and have great respect and love for each other," he said.
"Look at ... how happy we are -- both Afghans and Pakistanis," Waheedullah, an Afghan-born taxi driver working in Peshawar, told Pakistan Forward. "We request our governments resolve their petty issues and help build the two nations."
A step in the right direction
The joint celebrations and exchange of gifts on the border between the two nations will have a positive impact on relations, said Prof. Ijaz Ahmed, a Peshawar-based scholar of Pakistan-Afghanistan issues.
"It is a small positive act, but more needs to be done to remove differences and bridge gaps," he told Pakistan Forward. "The masses are the true game changers in this situation."
Contact between the Afghan and Pakistani peoples and border guards and the exchange of well wishes is good, but both governments ought to focus on the restoration of peace in the region, which can be achieved only together, said Peshawar-based senior security analyst Brig. (ret.) Mehmood Shah.
"For future better ties, these gestures could act as launching pads, but bigger measures are needed to have a long lasting impact on Pakistan-Afghanistan ties and to defuse the constant tension," he told Pakistan Forward.