DIAMER, Gilgit-Baltistan -- Pakistani security forces Monday (August 6) are continuing to carry out an operation to hunt down those responsible for the arson of a dozen schools in Diamer District of Gilgit-Baltistan (GB).
Unidentified assailants burned down the schools late August 2 before fleeing. Of the 12 schools attacked, 10 were girls' schools.
The main suspect behind the attacks, identified as militant commander Shafiq, was killed in a search operation in the Tangir area Saturday (August 4), Faizullah Faraq, a spokesman for the GB government, told Pakistan Forward.
Meanwhile, forces arrested more than 30 suspects for allegedly facilitating the terrorists, Faraq said.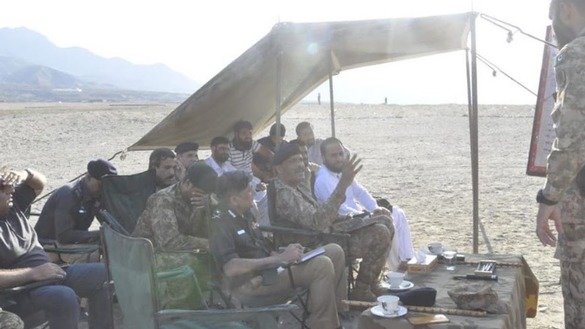 More than 12 police units are searching for the terrorists in the Darail, Chilas and Tangir areas, he said, adding that one police officer was killed in the operation and another wounded.
In defiance of the attacks, the GB government Monday announced plans to rebuild and open by September 1 all of the schools that were burned down, Faraq said.
GB Deputy Inspector General Gohar Nafees told Pakistan Forward that security forces will keep operating in the Darel, Chilas and Tangir areas until they have hunted down the terrorists.
Force Commander Northern Areas Maj. Gen. Saqib Mehmood Malik said militants will not be allowed to terrorise the masses and stop girls from obtaining education, stated Inter Services Public Relations (ISPR).
Fighting the enemies of education
Specialists from Islamabad are in town to assess the situation, and more assistance could come to fight anti-state elements if needed, Shams Mir, a spokesman for GB Chief Minister Hafiz Hafeezur Rehman, told Pakistan Forward Monday (August 6).
"We can't deny the involvement of the terrorists ... the August 2 attack seems to be the work of the enemies of girls' education," Diamer commissioner Abdul Waheed Shah told Pakistan Forward.
Extremists who targeted girls' schools in the past, mostly during the period from 2004-2011, are to blame, he said.
Pakistani politicians from other parts of the country condemned the school burnings.
Providing quality education across the country is a top priority, said Pakistan Tehreek-e-Insaaf (PTI) chairman and prime minister-elect Imran Khan.
His government will remain focused on girls' education and will "have zero tolerance towards enemies of education and they will be taken to task", he said.
Caretaker Prime Minister Nasir ul Mulk in a statement denounced the attack and said the Pakistani nation could not be defeated by such cowardice, adding that the GB government has received orders to take extraordinary measures to protect schools.
The terrorists will never succeed in hindering education, added Punjab Caretaker Chief Minister Hassan Askari and KP Caretaker Chief Minister Dost Muhammad Khan in separate statements.
Hindering education
The schools were among those built to promote education in Diamer District, which has the lowest literacy rates for boys and girls in GB.
In 2017, GB received a score of 63.18, ranking fourth out of Pakistan's eight administrative units at the time -- above Khyber Pakhtunkhwa (KP), Balochistan, Sindh and the then-Federally Administered Tribal Areas -- with respect to quality of education, according to the Pakistan District Education Rankings 2017 published by the Alif Ailaan NGO.
Diamer was the lowest-ranking district in terms of quality of education in GB with a score of 36.37, putting it among the 10 lowest-ranking districts in Pakistan.
The district has 244 government schools. Of those, 83% are at the primary level, 10.6% are middle schools and 6% are high schools. It has no higher secondary schools.
Of the total number of government schools, 156 are boys' schools, while 88 are girls' schools, according to Alif Ailaan. Of the 16,800 students enrolled in government schools, only 20%, or 3,479, are girls.