KARACHI -- Civil society and rights groups are raising the alarm over the participation of banned militant outfits and hardline religious groups in the upcoming July 25 general elections, calling on voters to reject such candidates.
The banned Ahle Sunnat Wal Jamaat (ASWJ) and the Milli Muslim League (MML), which the Election Commission of Pakistan (ECP) barred from registering as a political party, are among proscribed groups taking part in the elections under proxy groups.
Both face restrictions because of their involvement in militancy and ties to terrorism.
The ASWJ is contesting under its offshoot, the Pakistan Rah-e-Haq Party. The MML is fielding candidates under the rubric of Allah-o-Akbar Tehreek, a previously obscure political party.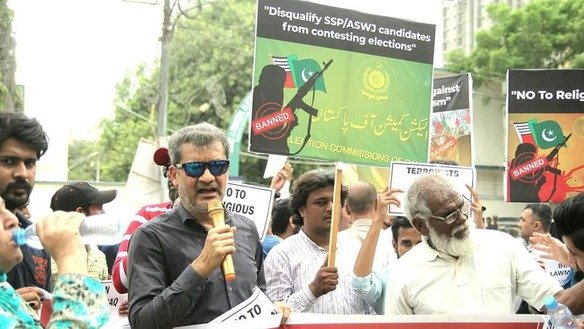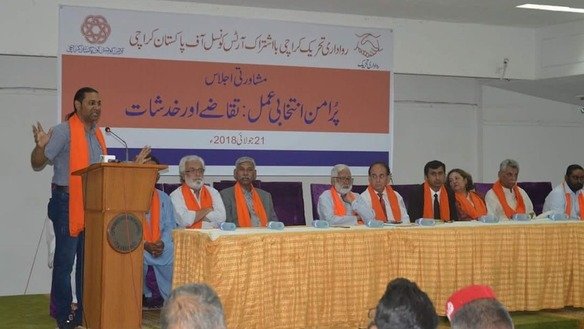 Similarly, Tehreek-e-Labaik Yah Rasool Allah Pakistan, a hardline religious party, is running in the elections. Supporters of Mumtaz Qadri, who was executed in 2016 for assassinating then-Punjab Governor Salman Taseer in 2011, formed the party.
Protesting against banned groups
Civil society activists and concerned residents have launched numerous efforts to prevent proscribed groups from contesting the general elections.
Earlier this month, they registered their complaints at an election tribunal, which dismissed their concerns. The group then organised a protest July 16 outside the ECP office in Karachi to pressure the authorities into stopping such candidates from competing.
Protestors demonstrated with placards bearing the images and words of members of banned terror outfits to show how such extremists challenge the country's integrity and solidarity.
"Outlawed terrorist outfits have just changed their parties' names but are still carrying out their activities, promoting religious intolerance and hatred," said Asad Gokal, a civil society activist and an organiser of the protest.
Of particular concern is the removal of the names from the Fourth Schedule, Pakistan's terror watchlist, just two weeks ahead of polls.
ASWJ chief Muhammad Ahmad Ludhianvi was among those whom authorities removed on June 28 from the list.
The government bars those on the list from interacting with crowds in public, travelling abroad, accessing bank accounts and taking part in elections.
ASWJ remains on a watchlist of the National Counter Terrorism Authority.
"Allowing these people to contest [elections] is worrisome and mocks the work of law enforcement agencies," Gokal told Pakistan Forward, adding that civil society activists will go to every legal extent to raise awareness and expand demonstrations to Islamabad and other cities.
The Human Rights Commission of Pakistan (HRCP) warned that banned outfits have reappeared in the electoral arena under different names, accusing the state of conferring political legitimacy on such groups by allowing them to contest the elections.
Authorities should revisit the ECP's scrutiny process to determine why it accepted the nomination papers of such candidates without further investigation, said HRCP Vice Chairman in Sindh Asad Iqbal Butt.
"These candidates belonging to banned outfits are misusing religion to peddle dangerous and intolerant rhetoric, and we are concerned," he told Pakistan Forward.
Voters urged to reject militant candidates
Civil society organisations in Karachi have organised several advocacy and awareness sessions aimed at educating voters to distinguish between mainstream and proscribed outfits.
Representatives of major political parties in a conference July 21 in Karachi agreed that voters should reject candidates belonging to proscribed outfits.
Rawadari Tehreek (RT), an independent civil society body working for inter-faith harmony and peace, organised the seminar.
Khawaja Tariq Nazeer of Pakistan Muslim League-Nawaz, Hameedullah Khattak of the Awami National Party, Kishwer Zehra of the Muttahida Qaumi Movement, Anwar Lal Deen of the Pakistan Peoples Party, Jibran Nasir, an independent candidate, and Yousaf Masti Khan of the Awami Workers Party were among the prominent speakers.
All speakers agreed that Pakistanis should educate themselves and vote for the candidates of peaceful political parties and reject the candidates of proscribed outfits.
Everyone is anxious at the sight of perpetrators of terror activities and of slayings of innocent civilians running in the election, said Seema Shaikh, an RT leader in Karachi.
"These militant groups should not have been allowed to contest elections," she told Pakistan Forward. "Their presence in the electoral process puts a question mark on the state's anti-terrorism efforts."