ISLAMABAD -- Japan is working with Pakistan to help improve transnational security measures and bolster efforts against terrorism, according to a report published by the Institute of Strategic Studies Islamabad (ISSI).
The June 5 report, titled "Pakistan and International Assistance for Combating Terrorism", highlights Japanese aid for four one-year projects set to run from April 2018 to March 2019.
Japan is providing more than $3.7 million (Rs. 427.7 million) through the United Nations Office on Drugs and Crime (UNODC), the Japanese Embassy in Pakistan announced May 10.
About $2.5 million (Rs. 289 million) of that will be spent on combating transnational crime and improving border security, $500,000 (Rs. 57.8 million) for countering terrorism financing, $300,000 (Rs. 34.6 million) for improving forensic investigation capability in Khyber Pakhtunkhwa (KP), and $385,600 (Rs. 44.6 million) for improving air cargo security at Allama Iqbal International Airport in Lahore by establishing an Air Cargo Control Unit.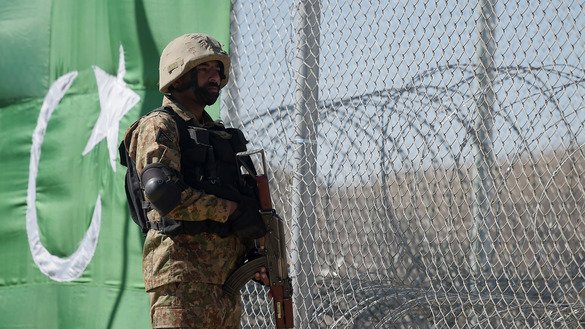 Co-operation between Pakistan and the international community shows that the nation is committed to fighting transnational crime syndicates, which hinder economic development and prosperity through their unlawful activities, according to Asad Ullah Khan, ISSI research fellow and author of the report.
The UNODC office in Islamabad, in collaboration with the European Union, is also providing support through Pakistan's Action to Counter Terrorism programme, the report said.
The three-year technical assistance project, launched in April 2017, is aimed at improving investigations in KP through the use of the forensics and enhancing the capabilities of prosecutors and the judiciary to appropriately adjudicate terrorism cases.
Improving regional security
"The Japanese aid will help strengthen security mechanisms in Pakistan, leading to a global benefit in terms of reduced militancy and terrorism," Brig. (ret.) Mehmood Shah, a Peshawar-based security analyst and former security secretary for the Federally Administered Tribal Areas (FATA), told Pakistan Forward.
Shah lauded Japan's financial assistance to Pakistan, adding that it is difficult for the Pakistani army to build a fence along the border with Afghanistan while undertaking other security measures.
Terrorists based in Afghanistan sometimes penetrate Pakistan and can infiltrate other countries if they find weaknesses in Pakistan's security, he said.
Authorities also should upgrade the security of airports in Karachi, Islamabad and Peshawar to discourage drug trafficking, other organised crime, and militancy, he said.
Meanwhile, other major countries should financially support Pakistan to minimise the risk of militancy and terrorism in the nation and the region, Shah said.
Donor countries should put their money where it is most effective and "extend maximum financial support to Pakistan in order to defeat terrorism and build up security," he said.
Enhancing border security
"The Japanese aid is a much needed relief, considering the up and down relationship with our economic and military aid providers," said Col. (ret.) Mukhtar Ahmed Butt, a security analyst and director general of the Federation of Pakistan Chambers of Commerce and Industry in Karachi.
"The most vital part of the aid is improving and enhancing border security facilities," he told Pakistan Forward, adding that Pakistan is already working to lay out the border fence on its western border and that any financial assistance in that area would boost the work already executed.
"Pakistan has completed fencing on almost half of its border with Afghanistan," Col. (ret.) Muhammad Sabahuddin Chaudhry, a security analyst and director of security at a multi-national bank in Karachi, told Pakistan Forward.
"Our military needs financial resources to finish the fencing of the 1,200-km-long border ... in what would be a long-lasting and big blow to militancy," he said.
"The partial fencing of the border with Afghanistan and other security measures have already improved security and brought back peace in Pakistan," he said, adding that completing the fence will guarantee peace in Pakistan, Afghanistan and the region.